Paviljonkikierros Venetsian arkkitehtuuribiennaalissa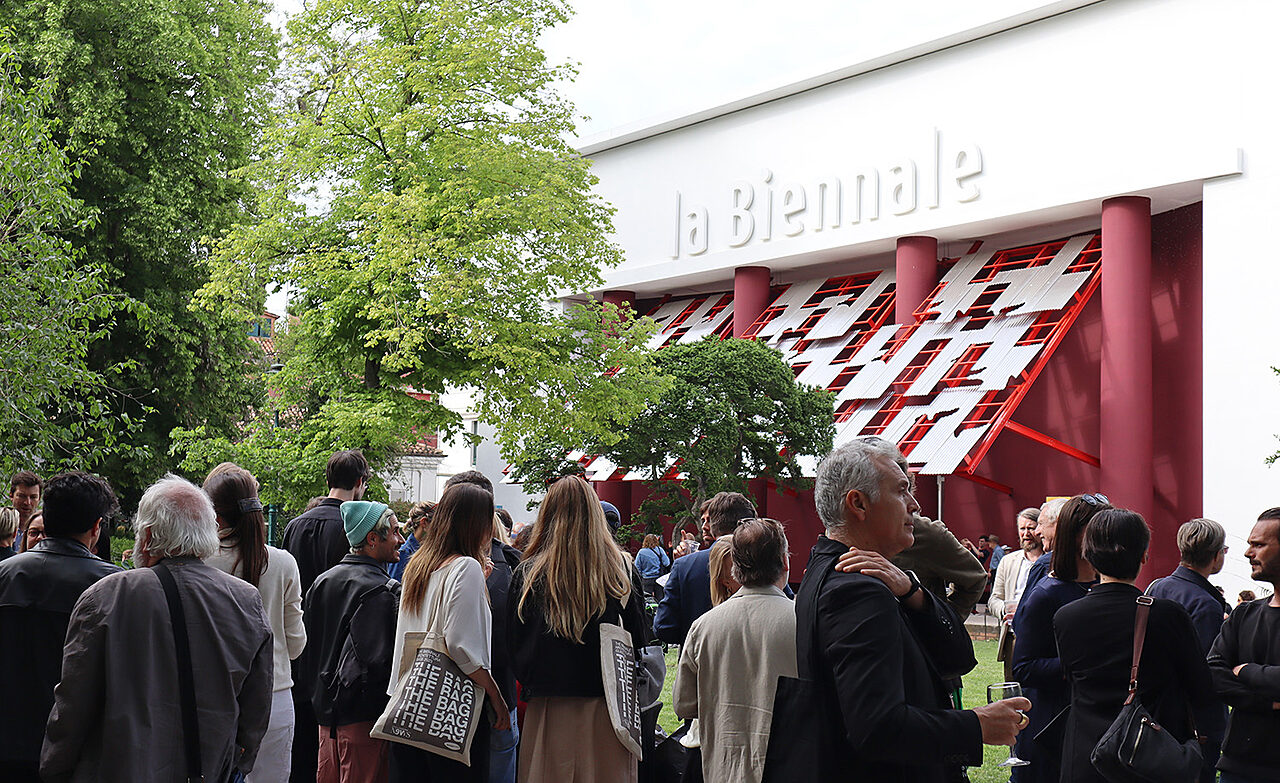 Linda Peltola
Tutustu Venetsian arkkitehtuuribiennaalin kansallispaviljonkien näyttelyihin tekijöiden opastamana!
Molempina Pavilion Days -päivinä järjestetään kolme samanaikaista kierrosta yhteensä kuuteentoista kansallispaviljonkiin. Kierrokset tarjoavat mahdollisuuden tavata näyttelyiden kuraattoreita, arkkitehteja ja järjestäjiä. Molempina päivinä kaikki kierrokset alkavat kello 11:15 (CET), ja ne sisältävät kukin 5–6 näyttelyä. Kierrosten päätteeksi kello 13:30 kokoonnutaan Sveitsin paviljonkiin Venetsian Giardiniin virvokkeille ja jakamaan kokemuksia.
Ilmoittautuminen kierrokselle on välttämätön, osallistujamäärä on rajallinen.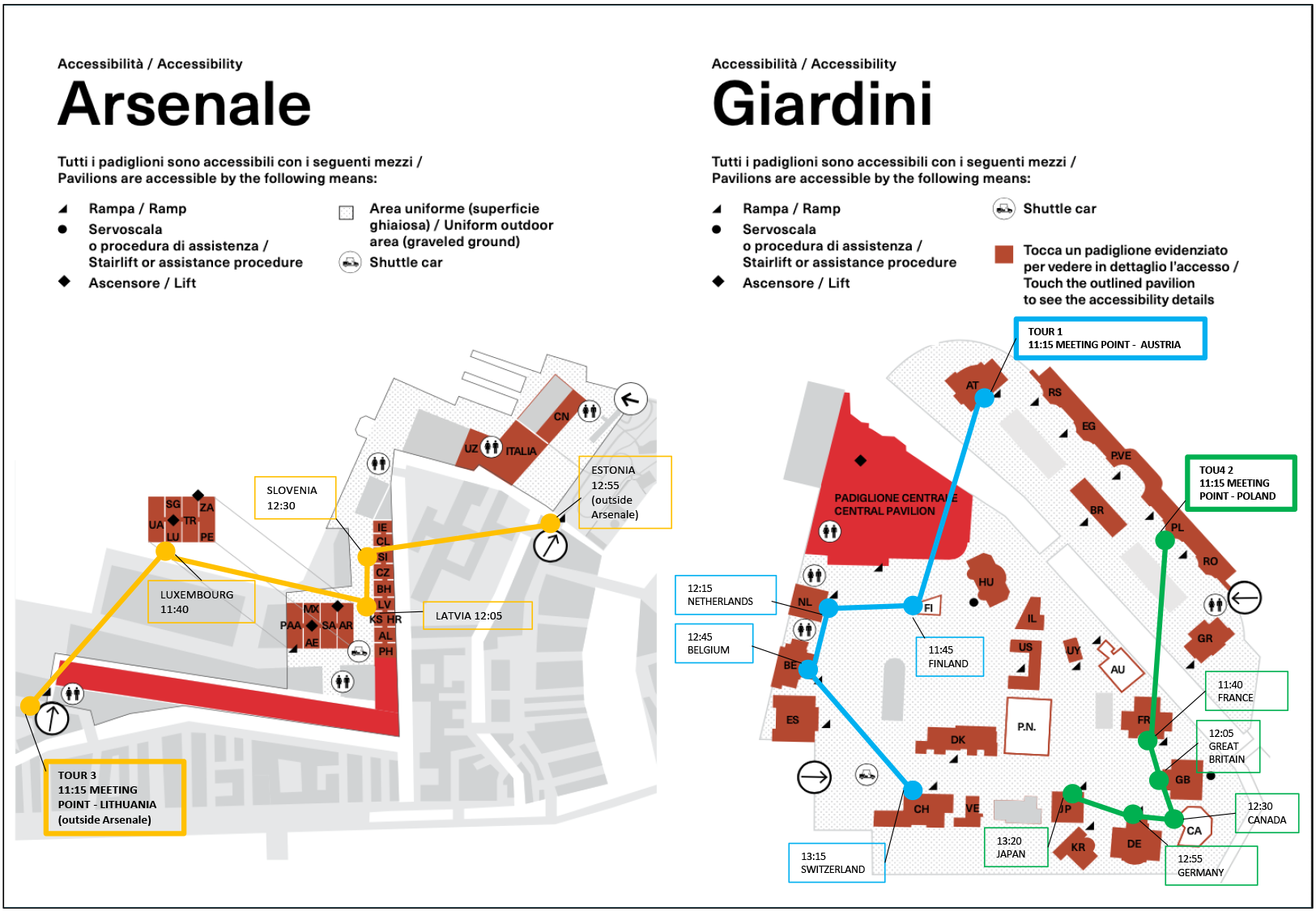 Kierros 1

Kierros 2

Kierros 3

Itävalta (aloituspiste)
Suomi
Alankomaat
Belgia
Sveitsi


Puola (aloituspiste)
Ranska
Iso-Britannia
Kanada
Saksa
Japani

Liettua (Castello 2125)
Luxemburg
Latvia
Slovenia
Viro (Castello 96)

---
Tour 1 – Giardini
AUSTRIA: Partecipazione / Beteiligung
'Partecipazione' was one of the core demands of the 1970s for an 'open, democratic' Biennale, as was working on site in the context of the city. Partecipazione / Beteiligung transfers these two approaches to the contemporary reality of Venice's old city. Vienna-based architecture collective AKT and architect Hermann Czech are shifting the separation between the Biennale and the city into the Austrian pavilion. Part of the building will be connected to the adjacent district and freely accessible to the people of Venice. Should the opening to the city fail due to the resistance of the Biennale and/or the involved institutions, this failure will become the content of the exhibition.

FINLAND: Huussi - Imagining the future history of sanitation
The exhibition critically reassesses sanitation infrastructure in the context of global freshwater shortages which have become a reality in Europe. Sanitation infrastructure is also connected with the possibility of restoring the nutrient cycle in food production. As a low-density solution, the exhibition presents a contemporary dry toilet, the huussi, which is still a typical sanitation solution in remote locations and summer cottages in Finland. By questioning the so far indisputable position of the current water-based sanitation system, the exhibition aims to inspire architects to start looking for alternative solutions, also at the urban scale, to better serve the world we inhabit today.

THE NETHERLANDS: Plumbing the System
Architecture can be seen as an articulation of systems – economic, social, political – that shape the built environment and organise and regulate flows of people, activities, resources, and ecologies. Often based on extraction and exploitation, these systems seem so thoroughly entrenched as to appear immutable. But in order to move towards a more sustainable, regenerative, and just future, many of these systems will need to be rethought. The Dutch Pavilion aims to show how alternatives might work on a macro scale while attempting to enact (and test) real changes on a micro level – offering a site where global thinking and local action can meet.

BELGIUM: In Vivo
How can we rethink architecture in a world of finite resources? It is urgent to rethink production itself, which is still too often considered in the context of an extractivist policy. It is also urgent to invent new ways of living. We propose to experiment with enviable alternatives for our territories and our cities, alternatives that would be forged with and from the living. We are proposing an alliance with mushrooms, which can constitute a highly available, sustainable, renewable material. The In Vivo Pavilion will offer a time and a place for critical thinking, particularly because questions of responsibility, of taking other beings into account, and of justice will be discussed in relation to living and building. But its strength will be defined above all by concrete and inventive proposals for an enviable future of living.

SWITZERLAND: Neighbours
The artist Karin Sander and the art historian Philip Ursprung exhibit the Swiss pavilion as such, instead of using it as a container for an exhibition. They highlight the proximity of the pavilions of Switzerland (1951–1952, Bruno Giacometti) and Venezuela (1954–1956, Carlo Scarpa). Of all pavilions in the Giardini, they are the closest. They share a wall. A carpet in the main hall depicts the two combined ground plans. A temporary opening, cut into the brick enclosure of the courtyard, makes visible the connection. The dead plane tree has been cut at a height of about eight metres. The iron fences shutting off the openings of the Swiss pavilion have been temporarily removed.
---
Tour 2 – Giardini
POLAND: Datament
The development of civilisation and technology has made our everyday life irreversibly dependent on the production, collection, and processing of data. Information produced in unimaginable quantities, processed by ever more technologically advanced computations, creates an illusion of truth about the world – the establishment of data that is a starting point for making decisions with very real consequences. The Datament exhibition brings us closer to data in its raw form, allowing us to experience it as it is, beyond its field of interpretation. Starting with the basic need to have a roof over one's head, Datament shows the importance of data and the problems it can cause in terms of architecture and urban planning.
FRANCE: Ball Theater
The Ball Theatre is an installation designed to reawaken our desires for utopia. Its hemispherical shape elicits multiple images. It can be interpreted equally as a terrestrial globe or as a mirror ball, a kitsch icon of an era when partying was still possible. This party aura suggests a new approach to today's crises, one in which the emphasis is no longer on emergency, but on the possibility of alternative futures. This is enacted in the theatre for the duration of the Biennale Architettura 2023 by an alternation between moments of contemplation and immersion in a landscape of sound echoing with foreign and far-off voices, and periods of intense occupancy in the form of variations on the theme of the 'ball', an interplay of workshops– residences between artists, researchers, and students.
GREAT BRITAIN: Dancing Before the Moon
Our installation is dedicated to matters of care, repair, and maintenance. Made entirely using leftover material from the Biennale Arte 2022, which left behind hundreds of tons of trash, the Pavilion will become a productive infrastructure, promoting principles of reuse and circular construction in tandem with architecture's social responsibility. By squatting the German Pavilion through a series of maintenance works, the contribution renders visible processes of spatial and social care work typically hidden from the public eye. The project demonstrates that ecological sustainability is inextricably linked to the social question.
CANADA: Not for Sale!!
Canada is in the midst of a severe housing crisis. Its symptoms include widespread unaffordability, under-housing,precarious housing, and homelessness. Not for Sale!! is a campaign of ten demands, each with an associated activist architectural project, to end housing alienation. The Canada Pavilion is the campaign headquarters, connecting architects, advocates, and activists within the growing movement for housing accessibility and affordability. Architects Against Housing Alienation is mobilising Canadians to demand socially, ecologically, and creatively empowering housing for all.
JAPAN: Architecture, a place to be loved — when architecture is seen as a living creature
Even after the pandemic, when the importance of coexistence is reconsidered, faceless developments continue to overtake the city. In such a world, do we have grounds to believe that architecture is loved today? Architecture, a place to be loved, is possible when architecture encompasses its engraved memories and stories and embodies the backdrop and the activities that took place, giving the architecture a broader meaning. It is also possible to perceive architecture as a living creature, rather than an entity separate from nature. The members of our team have many different specialties: textiles, ceramics, photography, design, editing, and architecture. Through the Japanese pavilion we create a spatial experience that invites visitors to think about architecture as a place to be loved.
---
Tour 3 – City and Arsenale
LITHUANIA: Children's Forest Pavilion
Forests are architectural and infrastructural spaces: environments of natural systems governed, exploited, and regulated by human interventions, technologies, industries, institutions, and agencies, but also places of depleting biodiversity. The installation is composed as a playscape and conceived to acknowledge the unique approaches of children to observe, draw conclusions, explain the forest, and demand agency in forming it. The Pavilion brings together works and findings developed in parallel to outdoor activities held with children. Environmental educators, activists, artists, architects, and foresters introduced forests as negotiated spaces where no single actor has a central stake.
LUXEMBOURG: Down to Earth
Down to Earth critically unpacks the project of space mining through the perspective of resources. With the space of the pavilion itself turned into a lunar laboratory, a stage where the performance of extraction takes place, the exhibition focuses on the unveiling of the backstages of the space mining project, offering another way of seeing the Moon that goes beyond the current optics of the Anthropocene.
LATVIA: T/C LATVIJA (TCL)
The connection between La Biennale (as a 'supermarket') and National Pavilions (as 'products') is an analogy which the Latvian Pavilion explores. Find everything for your desires, visions, and needs in TC Latvija's idea shop, a space where all ideas meet and find place on the same shelf. Welcome to the infinite horizons of shopping shelves. It's not the products that are important, it's your decisions that matter. Overwhelming amounts of ideas may be draining, but what if decision making could be fun? The authors request that a part of this process be moved to the Arsenale, emphasising that La Biennale itself is the Laboratory of the Future.
SLOVENIA: +/- 1 °C: In Search of Well-Tempered Architecture
Ecology is addressed by architecture rather paradoxically. Architecture tends to address ecological issues exclusively through applied technology hidden inside walls. 'Energy efficiency' thus appears as an entirely separate component of a building. In the past, ecology generated and was inseparable from architecture itself, which means that buildings were ecological already in their conceptual design. We have sought out examples of vernacular buildings that address the issue of ecology as an intrinsic part of architectural design and divided them into categories according to their main energy principles. Vernacular architecture is thus understood as a living specimen of energy principles that can be used as the basis for a critical reinterpretation of contemporary architectural production.
ESTONIA: Home Stage
Home Stage, the Estonian exhibition at the Biennale Architettura 2023, explores the contradiction between the use and the exchange value of living space. A succession of Estonian performers will spend a month, individually, in a Venetian rental apartment that becomes both a home and a stage. Everyday life, lived and performed in a duet with the apartment through a loop of scripted and nonscripted activities, rolls out in front of, and among, visitors to the Biennale Architettura. Come over!