Back to articles
Distinguished architect Juha Leiviskä donated his collection to the Museum of Finnish Architecture
The highly esteemed and internationally awarded architect, Arts Academician Juha Leiviskä has donated his entire collection of drawings to the Museum of Finnish Architecture. Leiviskä is known, in particular, for his sacral buildings and skilful use of light in architecture.
Architect, Arts Academician Juha Leiviskä's collection is an internationally significant entity that covers his entire architectural career from the 1960s to 2010s. The collection includes all of the architect's realised work's drawings and extensive selection of competition entries and models. The donation ceremony was held at the Museum of Finnish Architecture in Helsinki on November 1st 2019.
"We are honoured that Juha Leiviskä donated his life's work to the museum. The Leiviskä collection completes the key post-war architects' works in the Museum of Finnish Architecture's collections," tells Head of Archives Petteri Kummala.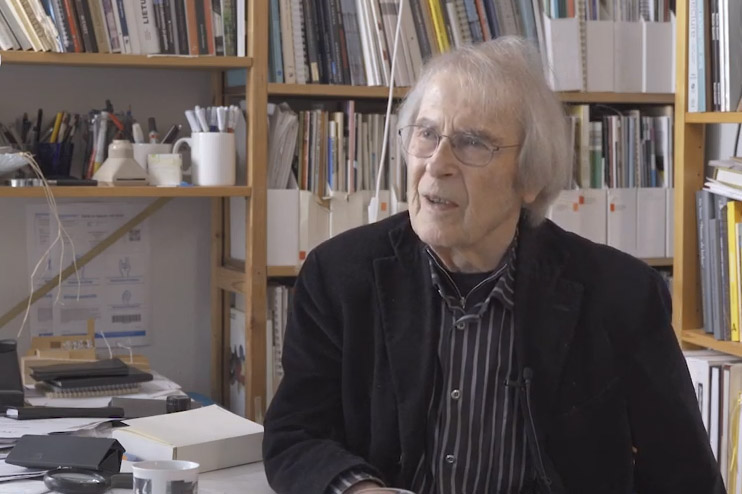 Juha Leiviskä (b. 1936) is one of the most internationally known and awarded contemporary Finnish architects. He has been awarded the Carlsberg Architectural Prize in 1995 and the Antonio Feltrinelli Prize in 2008. After graduating as an architect in 1963, Leiviskä worked in architect Bertel Saarnio's office, where he designed the winning proposal for Kouvola City Hall, completed in 1967 – the same year Leiviskä established his own architectural firm.
In Finland, Leiviskä is especially known for his sacral buildings such as Puolivälinkangas Church in Oulu (1975), Myyrmäki Church in Vantaa (1984) and Männistö Church in Kuopio (1992). Moreover, his main works include the wooden city block in Helsinki comprising Vallila Library and Daycare Centre and a rowhouse, and the German Embassy in Kuusisaari, Helsinki and Ad-Dar Cultural Centre in Bethlehem, Palestine.
Earlier this year, on the occasion of Open House Helsinki 2019, Archinfo Finland produced a 25-minute documentary film on Juha Leiviskä, Virtuoso of Light. On the video, Leiviskä talks about his architectural thinking and presents some of his key projects. According to Leiviskä, daylight is the most important building material: "Buildings are in a way instruments for light to play."