Back to articles
Close-up: professor Pirjo Sanaksenaho
Pirjo Sanaksenaho's childhood dream profession, already in primary school, was an architect. Sanaksenaho, who has established a career as both a practicing architect and teacher of architecture, began her position as associate professor of building design at Aalto University on 1.12.2013. 
Anne Tervo
's interview delves into her academic career as well as her activities as a newly appointed professor.
The teaching of building design, ideals and finding one's own path
You have already had a long teaching career in architecture. If you look back, what factors made you choose a teaching career parallel to one as a practicing architect?
In teaching one gets to deal with the ideals and fundamental issues of architecture. In practical design work these are easily left on the sidelines, secondary to resolving details. Overall, teaching leads you to think about what is good design and good architecture. At the same time, you justify your own actions.
You have been professor of building design since 1.12.2013. How do you see your own position in this task? What do you want to retain and what new things do you want to bring to your professorship?
First, let me give some background to how the building design professorship came about. With the creation of Aalto University the professorships of the Department of Architecture have been grouped in a new way. The previous silo-like professorship structure has been replaced by four focus groups. The former professorship in public buildings now forms its own group together with architecture history, and the basics and theory of architecture. The scope of the building design professorship includes, in addition to designing public buildings, also "building for well-being", as well as combining housing, employment and services; in other words, the scope of the professorship can be found in so-called shared buildings.[caption id="attachment_628" align="aligncenter" width="225"]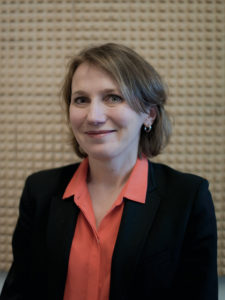 Professor Pirjo Sanaksenaho. Photo: Juha Lind.[/caption]I want to preserve the strong design expertise of the part-time staff in the teaching of building design – particularly now when there will be the Bachelor of Engineering (BEng) degree of "building designer", and those who have graduated with such a degree will be competing for the same design tasks as architects. Practicing architects, those who establish architect's offices, should continue to graduate from our school. Also, management of the larger whole is on a completely different level following a long university education. On the other hand, I also want to promote the creation of post-graduate degrees in the area of building design, and I am interested in developing artistic doctoral theses: in the academic world, resources are after all distributed on the basis of doctoral theses. This area could also be developed by architects researching design processes.With regard to change, one must also be prepared to update the teaching. Ultimately, how large a part of design tasks are chapels, museums and other cultural buildings? Diverse expertise also produces good office buildings, schools and such like.I have analysed my objectives in regard to this new position in a few statements of intent. One is to preserve the connection between teaching and the practical design work of an architect. Another is cooperation between the engineering sciences as well as the other departments of the School of Art, Design and Architecture, so-called Aalto ARTS, and why not also the social sciences, all of which supports the topicality of the course subjects. Then there is the writing aspect I mentioned and strengthening the career opportunities of researchers. Additionally, I want to promote the coexistence of architecture and the visual arts, so that the students in these disciplines will carry out joint projects. In this way, an even richer environment can be created than only by architects.
If we consider briefly questions of a slightly large magnitude, then what is unique about Aalto University?
Aalto University's key principle is to bring together people from different fields. This is a good principle, from which something new can emerge and indeed already has, for example with the engineering sciences. Despite the fact we have changed from a university of technology to a university of art and design, it feels that along with the structural changes much more cooperation has come about in that direction. The interdisciplinarity creates opportunities. However, what has been disappointing is the increased administration, even though the aim was exactly the opposite.
What is the strength of Finnish architecture education?
I would say practicality. Our design education is pragmatic. Correspondingly, there would be room for development in substantiating one's own ideas and concepts. Perhaps this is where something of our national character becomes evident – we do more than we talk. However, nowadays architects should also be able to market things a little. In international comparisons, young Finnish architects nevertheless do well.
Are current teaching resources adequate?
It has been possible to manage the teaching through the basic funding. I do not know what will happen in the future if the budget continues to decrease each year. On the other hand, the task of the professor is to seek external funding, through which teaching can be secured. One should also check what the resources of the department of architecture are in relation to the other departments of Aalto ARTS.The pressures to reduce part-time staff are an important part of the discussion of resources. There is a desire to transfer increasingly more teaching to full-time lecturers at the university. I see this, however, as problematic because designers from the field are often more familiar with practice. Administrative tasks have grown for the staff to the extent that people perhaps do not have time to be so much involved in design work.
In Aalto University there is an emphasis on the importance of internationalisation. How are the locality of architecture and cultural specificity positioned within this development?
An important objective of the Department of Architecture is to produce skilful architects for Finnish society. On the other hand, the markets are expanding continuously. One can no longer be under the belief that the design commissions would be limited only to Finland, but rather there is also architecture as an export product. Of course, the foreign graduate and post-graduate students that do their degrees with us take back with them some of our national characteristics. Overall, I see internationalisation as a good thing, in that we can learn from each other. Our teaching becomes enriched through different ways of working.On the question of language, I hope that it will be possible also in the future to qualify as an architect in one's mother tongue. The preservation of one's own fine mother tongue should not be neglected in the internationalisation boom. I also think consideration should be given at the higher level to whether Finland should provide free university education to all or whether those who come from outside the EU should pay tuition fees, as is the case elsewhere in the EU.Briefly on the question of locality, public building is not as local as, for example, housing. In the care sector and design of senior citizens' surroundings it is particularly worth looking at examples from abroad.
In connection with developing architectural education and research, there is a lot of talk about new challenges linked with the architect's professional profile. Are there any viewpoints linked with this theme that you would like to emphasise?
I would wish that in addition to architects graduating as designers there would be more of them graduating as building developers. It would promote the quality of the built environment if there were clients with an architectural education. The same applies to municipal decision makers; in other words, an increase in social awareness would be good. It is already possible, on the basis of what other departments offer, to put together subsidiary subject packages that prepare the student specifically for building developer tasks. This opportunity should be marketed more to students. At the same time, one could also help each student find their own way to proceed in their career. One could also work harder to ensure that the different career opportunities for architects would not be ranked; of course, not everyone needs to work in an architects' office or in urban planning. I mentioned already earlier the need to find alternatives also in writing and research.
Your professorship also entails directing the Research Institute for Health Care Facilities (Sotera). What objectives do you have in regard to the operations of this research unit?
I see a lot of potential in Sotera. With the structural changes in the social and healthcare sector, new hospitals are being built and old ones repaired. That is an extensive area of activity for architects. In Finland, however, there are a limited number of experts that are skilled in hospital design. It would indeed be important to train architects specialised in the social and healthcare sectors, so that the architecture of these projects would evolve. In this sense, I have thought that within my professorship there would be a studio course on the design of healthcare buildings every other year.I see my own task in Sotera, however, more as an administrative leader. The project leaders are the ones in charge of research projects. At the moment in Sotera there are visions for hospital design that deal with service architecture and are linked with the user experience. There is a lot happening.
You are working on your own doctoral thesis on the breakthrough of the modern home – the ideals of the single-family house in the 1950s and 1960s. How do you see the doctoral-level education of architects in Aalto University and what, in your opinion, are the most important development areas of doctoral education in Aalto ARTS?
This is linked to the earlier question about career alternatives for architects. We should make the researcher's career path clearer and share the responsibility for implementing the post-graduate-level courses. Generally, we need more guidance in the research methodology. Also guidance practices for post-graduate studies should be made clearer. With Aalto ARTS there has indeed been a little bit more shouldering of responsibility and more support is available.The doctoral programme for architects also links building design with the doctoral thesis research. In this sense, an artistic doctoral thesis is a challenge, and one I want to take on. The expertise that the students in their fields have is, however, to a large extent design expertise.
Architects often work on their doctoral thesis very independently. Very few are part of a fixed research team. Would there be potential here for development?
Yes, certainly. We do not have such research groups, and working alone slows down completion of the thesis. What also has a large influence is the fact that there is not much funding available for postgraduate students. Each doctoral student carries out the work using their own scholarship funding, perhaps even alongside their day job. Research groups would also offer the opportunity to share content expertise parallel with expertise in methodology.
What kind of researcher will an architect become?
In a certain way perhaps even excessively self-critical, which leads to the completion of the thesis becoming protracted. On the other hand, we are used to creative thinking, and research is also a creative activity. In this sense, the same characteristic defines both the researcher and architect.
Finally, I would like to ask: what dreams do you have for the future of architectural education?
I consider it important that students should receive support for their own personal expression and in finding their own personal career path. I would hope that we would be able to encourage them to make decisions that suit them. I really cannot say it in any better way. At the same time, I hope that the quality of our built environment would also in the future be in a good state, and that we would have a diversity of international-level expertise.[caption id="attachment_631" align="aligncenter" width="618"]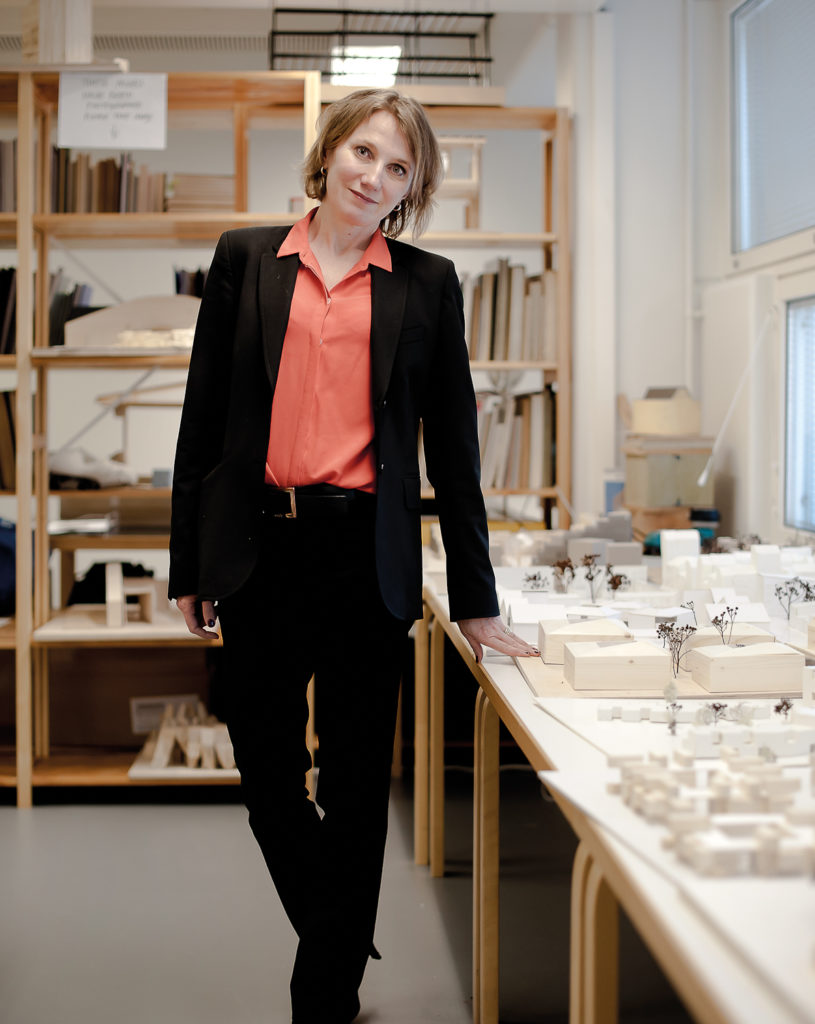 Professor Pirjo Sanaksenaho. Photo: Juha Lind.[/caption]Text by Anne Tervo, an architect and university teacher in housing design at Aalto University. English translation: Garreth Griffiths. Editor's note: This interview has also been published in Finnish in
Arkkitehtiuutiset
2/2014.