Back to articles
From Border to Home – where are we now?
How has Europe responded to the asylum seekers' housing needs? Could integration be facilitated by means of architecture? The seminar held at Maunula House on 21 March provided examples from Austria and Italy and discussed Finland's situation.
A round-the-clock demonstration has been going on at the Helsinki Railway Square since the beginning of February. Asylum seekers have set up their camp in front of Ateneum Art Museum, while the other side of the square has been taken over by anti-immigration extremists. The situation has escalated several times, for example the asylum seekers' tent was set on fire. The cultural and art sector took a stand on the current government's more severe immigration policy by hanging a "Refugees Welcome" banner on Ateneum's facade and by collecting a support petition with 10,000 signatures.In their appeal submitted to the City of Helsinki, Iraqi and Afghan asylum seekers did not only call for the safeguarding of their legal protection but also safe housing – shelter for the homeless in Helsinki irrespective of their status. The need for housing, both temporary and permanent, is great. [caption id="attachment_4069" align="alignnone" width="618"]

Winning entries in the From Border to Home competition: Enter the Void (Germany), authors Duy Tran, Lukas Beer, Ksenija Zdesar, Otto Beer. Society Lab (Italy), authors Cecilia Danieli, Omri Revesz, Mariana Riobom. We House Refugees (Finland), author Milja Lindberg, assistant Christopher Erdman.[/caption]
From Border to Home
In the autumn of 2015, as refugees flooded to Europe, the Museum of Finnish Architecture and the Finnish Association of Architects quickly launched an international architectural competition to find solutions to the asylum seekers' housing and integration needs. The From Border to Home competition received 93 entries and the first prize was divided between three teams. In addition, four entries were given an honourable mention. None of the proposals have found their way to implementation, but the competition has sparked debate.Asylum questions and architects' answers to them were also one of the main themes at the 2016 Venice Architecture Biennale titled
Reporting from the Front
and curated by the Chilean architect
Alejandro Aravena
. The Finnish pavilion showcased the winning competition entries at the
From Border to Home
exhibition. The seminar organised by the Museum of Finnish Architecture and the Architecture Information Centre Finland at Maunula House in March was the closing event of the biennale project.The curator of the exhibition at the Finnish pavilion, architect
Marco Steinberg
opened the seminar and told about the background of the project. In 2015, a total of 32,478 asylum seekers came to Finland and at the same time 13% of the business premises in the capital region were empty. Could one of the solutions be to utilise these premises?Steinberg also stated that immigration as such is nothing new, even we Finns have come here from somewhere else over 10,000 years ago and throughout history people have come to and left Finland. In the 1860s shiploads of Finns (4% of the population) moved to the United States, during the Winter War 400,000 Karelians (5%) had to be resettled, during wartime 80,000 children were sent to other countries for safety and in the 1960s and 1970s hundreds of thousands of Finns (4%) moved to Sweden in the hope of a better life. The asylum seekers that came here in 2015 only account for half a percent of Finland's current population. The more important question is: what is the purpose of architecture in the 2000s? [caption id="attachment_4071" align="alignnone" width="618"]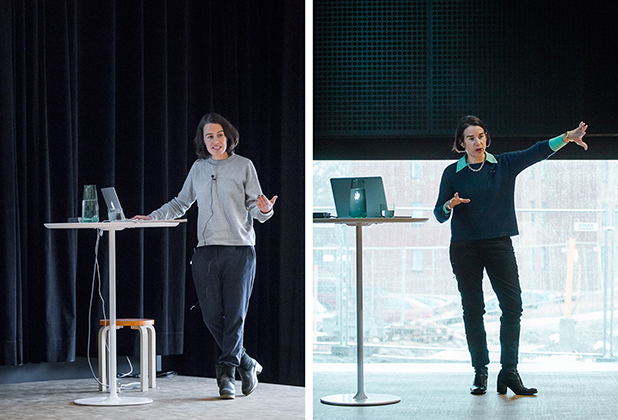 Sabine Dreher (left) and Marguerite Kahrl at the From Border to Home seminar in March, 2017 at Maunula House, Helsinki. photos: Juho Haavisto / MFA[/caption]
Places for People
The event at Maunula House had two keynote speakers, curator
Sabine Dreher
from Vienna and artist
Marguerite Kahrl
from Turin. Dreher was the curator of the
Places for People
exhibition in the Austrian pavilion at the 2016 Venice Biennale. Kahrl, an American living in Italy, has launched an art and community project in her current hometown of Turin to support the integration of refugees.When the curator team formed by Sabine Dreher and
Christian Muhr
from the Liquid Frontiers think tank and architect
Elke Delugan-Meissl
began to plan Austria's part in the biennale, they felt that more important than the actual exhibition was to do something concrete to help the 95,000 refugees who had come to Austria. "Our perspective turned from the biennale to the city of Vienna – even at the risk that we would not have anything to display at the biennale," Dreher said.At first Austrians believed that most of the refugees would continue their journey to Germany or Sweden and they were accommodated in empty properties with primitive living conditions. The curator trio felt irritated because no one had called for architects to participate in designing accommodation facilities and architects had not actively offered to help either. Thus they decided to launch a real project, find suitable properties and hire designers.The sites selected were an empty 1970s office building with 300 refugees sleeping on steel frame beds in open-plan spaces, a former training facility for customs officers, a giant complex with two-person rooms but no communal spaces as well as a partly vacant office building in a densely built-up problem neighbourhood.[caption id="attachment_4066" align="alignnone" width="309"]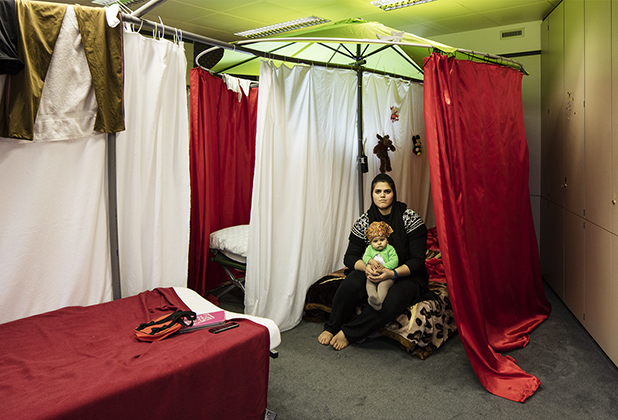 Caramel Architekten, "Home Made", Vienna 2016. photo: Places for People[/caption]For the first site Caramel Architekten designed a small, quick and inexpensive intervention that offered the residents privacy and a "home". Each family's area was marked off with a large parasol with a curtain hung around it. The residents were able to make their "homes" unique and feel that they were in control of their own space. They could even invite other people over for a cup of tea. With the project, the residents of the multi-storey office building began to develop into a self-organised community.[caption id="attachment_4067" align="alignnone" width="309"]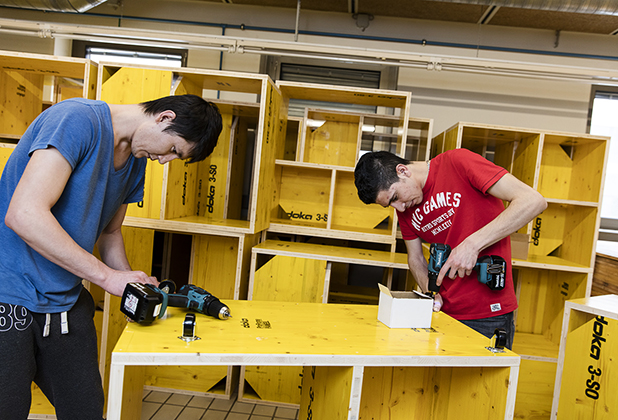 EOOS, "Social Furniture", Vienna 2016. photo: Places for People[/caption]The second site had small rooms with accommodation for 600 young men. The design team EOOS analysed that to avoid social problems the men needed communal spaces and something to do. They developed a concept where the residents build furniture in workshops for their housing community based on a catalogue. This project has also had a wider social impact as the residents have been able to feel useful and take on roles based on their own skills and interests.[caption id="attachment_4068" align="alignnone" width="309"]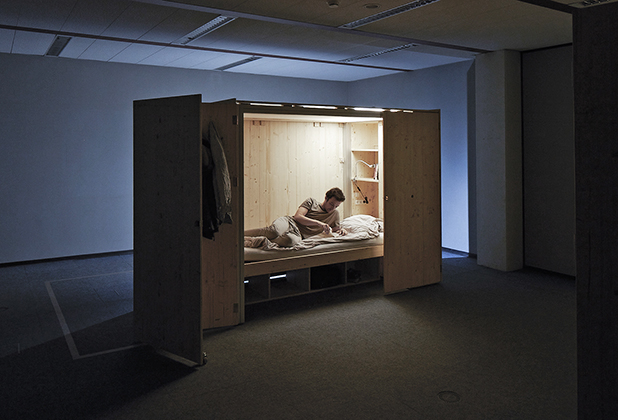 The Next Enterprises, Un/Common Space – Un/Defined living prototype. photo: Paul Kranzler / Places for People[/caption]In the third project, the Next Enterprise Architects developed a solution based on a "room in room" module that can be adapted by the residents depending on their needs. There are both asylum seekers and students living on the fifth and sixth floors of the office building and this housing experiment is supposed to continue for three years. In addition, entrances have been opened and recreational areas have been created in the formerly closed park adjacent to the building. The whole neighbourhood has gained something extra and also the property owner has been happy with the increased appreciation of the property.The success of all three projects in Vienna has been guaranteed by a dedicated NGO, Caritas, which has organised and run the activities. All of the projects are still ongoing and some of the solutions have been copied elsewhere. "The refugee situation that escalated a year and a half ago is not a passing phenomenon, instead long-term solutions are needed," Sabine Dreher said.
Con MOI
Artist and educator Marguerite Kahrl has been a permaculture designer for a long time with the aim of utilising the ways of natural ecosystems in people's living environments and social art projects. She is one of the founding members of the Con MOI association. Con MOI operates in Ex Moi, the Olympic village for the 2006 Winter Olympics in Turin, now occupied by 1,300 refugees and migrants after being empty for seven years.[caption id="attachment_4064" align="alignnone" width="309"]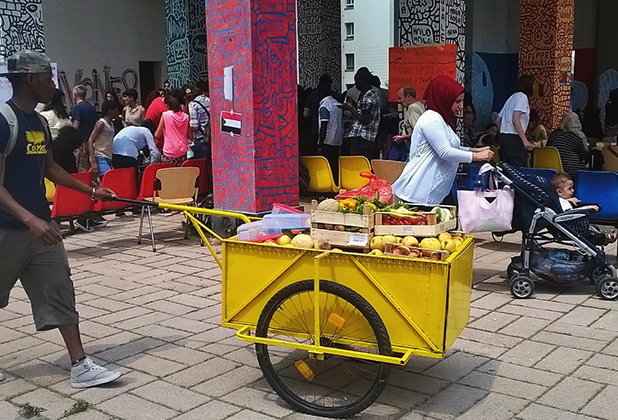 Food sharing at Ex Moi refugee village in Torino, Italy. photo: Marguerite Kahrl / Con MOI[/caption]Con MOI started in 2015 as an art workshop and soon expanded into a community project. Its aim is to involve residents and community organisations and to strengthen social bonds and a sense of community by sharing, for example, food, skills, time and attention. One of the forms of sharing is collecting leftover goods from the market and organising communal picnics. The aim with this is to promote reciprocity and reduce waste.Many of the Ex Moi residents have had traumatic experiences that are difficult for them to deal with. In Kahrl's art workshops they have been able to express their feelings in different ways. In one workshop they created self-portraits from donated textiles. "It was wonderful to see how tough African men, who were at first very negative and suspicious, become excited about sewing a little doll." Con MOI has also organised, for example, video and printmaking workshops.[caption id="attachment_4065" align="alignnone" width="309"]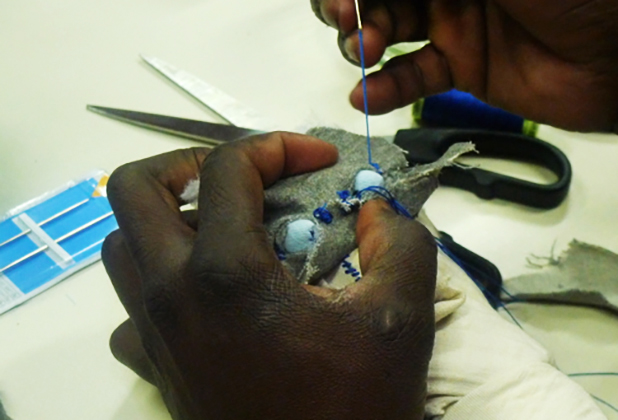 Self-portrait sewing workshop. photo: Marguerite Kahrl / Con MOI[/caption]In her work Kahrl creates models for the promotion of cultural change. Her aim is to reduce tensions, encourage an ecologically sustainable lifestyle and stop the erosion of society. Con MOI is now an association run by the residents of the area. The project has brought a variety of entrepreneurship to the area and the sharing of food, for example, is coordinated through WhatsApp.At the end of her speech Kahrl shared some sad news. The tensions between the local population and the new residents of Ex Moi have gradually increased and in November a bomb exploded in the area. Now the residents are being evicted one building at a time and moved elsewhere into former military barracks. No one knows what will happen next.
Home and work
At Maunula House the discussion shifted back to Finland.
Sirkku Päivärinne
from the Ministry of the Interior, who also was a member of the From Border to Home competition jury, provided some tough statistics on the asylum seekers' situation and the tightening of regulations under the current government. Some 17,000 asylum seekers are still waiting for a decision and 3,200 of those who have been granted asylum still live in reception centres because there are no places for them. It is, however, positive that 5,000 people with an asylum status have already been given accommodation in a municipality and they have been able to get started with integration.Researcher
Kaisa Schmidt-Thomé
from Demos Helsinki spoke about the Refugees for Co-creative Cities research project that looks for the best asylum seeker accommodation and integration practices in Europe. The small measures carried out together with the users based on the concept of "with refugees for refugees" have been successful. Initiatives started by citizen groups are effective and inexpensive, one example being the home accommodation network for refugees.
Samer Rashid
, who came from Mosul, Iraq, just over a year ago, told about his experiences in Finland. He has the education of an architect and now he works as a volunteer in the non-profit organization Startup Refugees. He was recently granted asylum and he also got a job in a library. Samer looked back on the first months in Finland that he spent in a refugee centre near Lappeenranta in eastern Finland. "The circumstances were prison-like. We were in the forest in the middle of nowhere and there was nothing to do. The hardest thing was to just lie there without doing anything. We would have wanted to study or work, even without pay, meet people and be useful."All five panel participants agreed that asylum seekers need both housing and social networking, but in terms of integration the most crucial aspect is inclusion. "The greatest need of refugees is to be received in the society," Marguerite Kahrl concluded.[caption id="attachment_4070" align="alignnone" width="618"]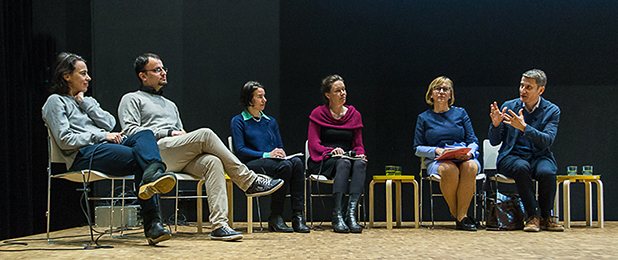 Panel discussion at Maunula House: Sabine Dreher (left), Samer Rashid, Marguerite Kahrl, Kaisa Schmidt-Thomé, Sirkku Päivärinne and moderator Marco Steinberg. photo: Lena Kingelin / MFA[/caption] At Maunula House one can see inclusion and integration in practice. Architect
Mikko Summanen
from K2S Architects guided the seminar participants through the recently opened community centre and told about the design process. "Maunula House is a City of Helsinki pilot project of participatory design, in which the users were involved in the process from the beginning. The house is also an experiment in terms of combining different functions in one building. The idea was to take down fences, not to build them."In the lobby café there were mothers with babies socialising and seniors reading newspapers and behind the sales counter young Romanies were slicing the coffeebread they had baked for the customers and occasionally popping into the multipurpose room to sing spiritual karaoke. In the youth centre wing, there was a mixed group of school kids from different ethnic backgrounds watching a film together and in the adult education centre upstairs there were language and glove knitting courses going on. In the spacious and sculptural municipal library wing the laughter of young Muslim girls doing cartwheels filled the playroom while behind the glass door people were grocery shopping. All functions and people exist in harmony under one roof.
text by Miina Jutila
Read more about the From Border to Home project and the related discussions:
www.frombordertohome.fi