Back to articles
New Standards is now open – in Venice and online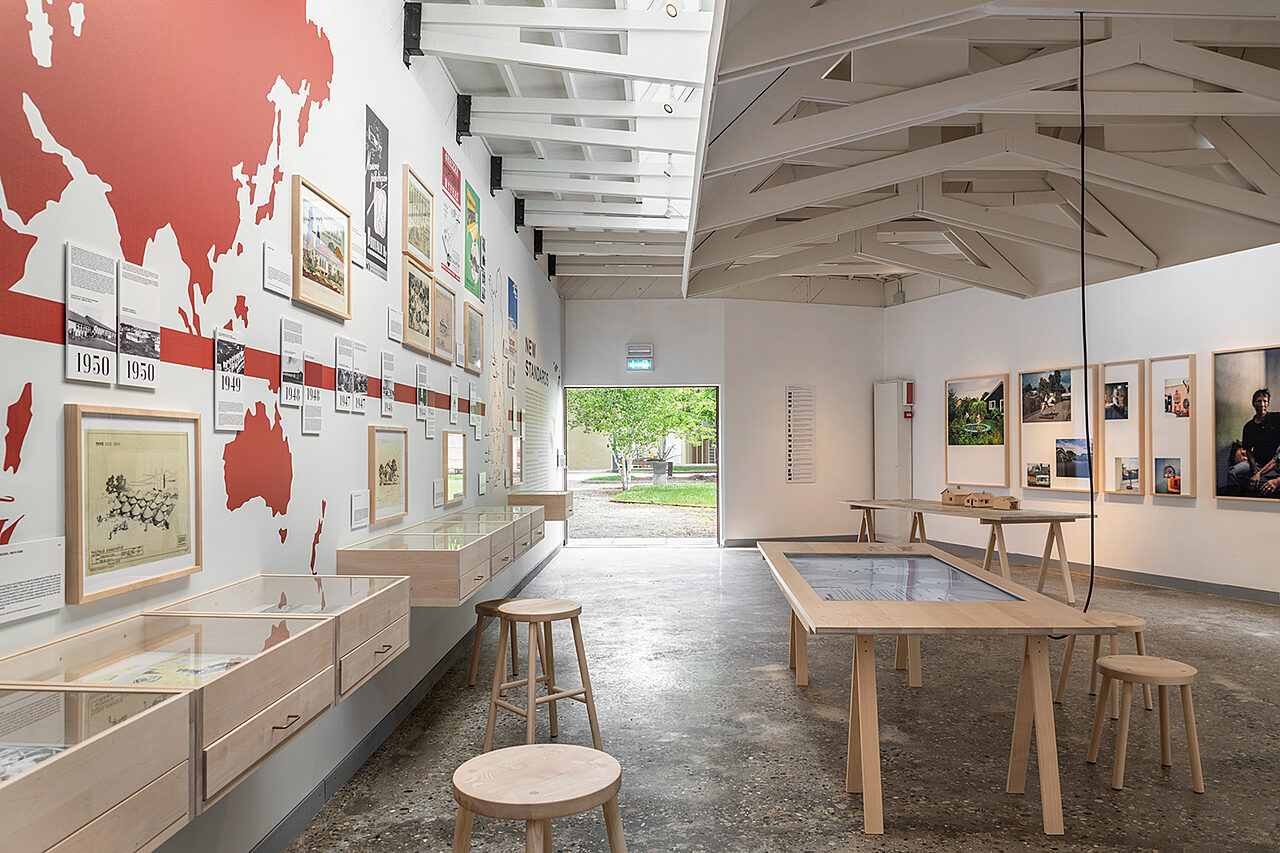 Finland's Minister of Culture and Science Annika Saarikko officially opened the Pavilion of Finland's exhibition on Thursday May 20th. The online inauguration event also offered an interesting discussion between three national pavilions.
More than 200 people gathered to listen to Finland's inauguration speeches and panel discussion. In the Venice Giardini, during the first two days of the Biennale Architettura 2021 preview well over a thousand people – invited guests and media representatives – have visited the New Standards exhibition. The online inauguration event was streamed to the Pavilion.
Simultaneously with the Pavilion of Finland opening its doors to the visitors, a substantial amount of the exhibition material was published on the site newstandards.info, together with a guided video tour.
Curated by Laura Berger, Philip Tidwell and Kristo Vesikansa, New Standards looks back to a moment when a crisis – the Second World War, which left hundreds of thousands of Finns homeless – brought Finland's timber industry, decision-makers and architects together to find solutions to producing quality homes efficiently and affordably. This resulted in the creation of the Puutalo corporation (Timber Houses Ltd).
Juxtaposed with extensive and previously unseen archival material, newly commissioned photographs offer a contemporary perspective on the buildings and communities that still exist today around the world. The images from the acclaimed photographer Juuso Westerlund depict in a touching and startlingly intimate way the life and dwellers of Puutalo houses in Finland, Denmark and Colombia. Each photo included in the wall-sized piece tells a very humane story, framed by the home.

The contents of the exhibition, including Westerlund's works, can be explored on the site newstandards.info, where selected cases in Marttila (Helsinki, Finland), Finneby (Aarhus, Denmark) and Barrio Simón Bolívar (Barranquilla, Colombia) are scrutinised through archival material and contemporary photography. The story of the heyday of Puutalo corporation, from 1940 to 1955, in relation to geopolitical events is told in the form of a timeline. The site also offers a possibility to examine the world export of Puutalo through an interactive map.
In the inauguration event we heard an engaging discussion hosted by Phineas Harper, Director of Open House Worldwide, with panelists Paul Andersen, curator of the USA Pavilion, architect Siv Helene Strangeland of the Nordic Pavilion and our curator Philip Tidwell. All three pavilions present exhibitions related to timber construction, and common ground was also found in the quality of housing, mass-production and customisation. A recording of the discussion will soon be published on the site newstandards.info.