Back to articles
Wood in the focus of attention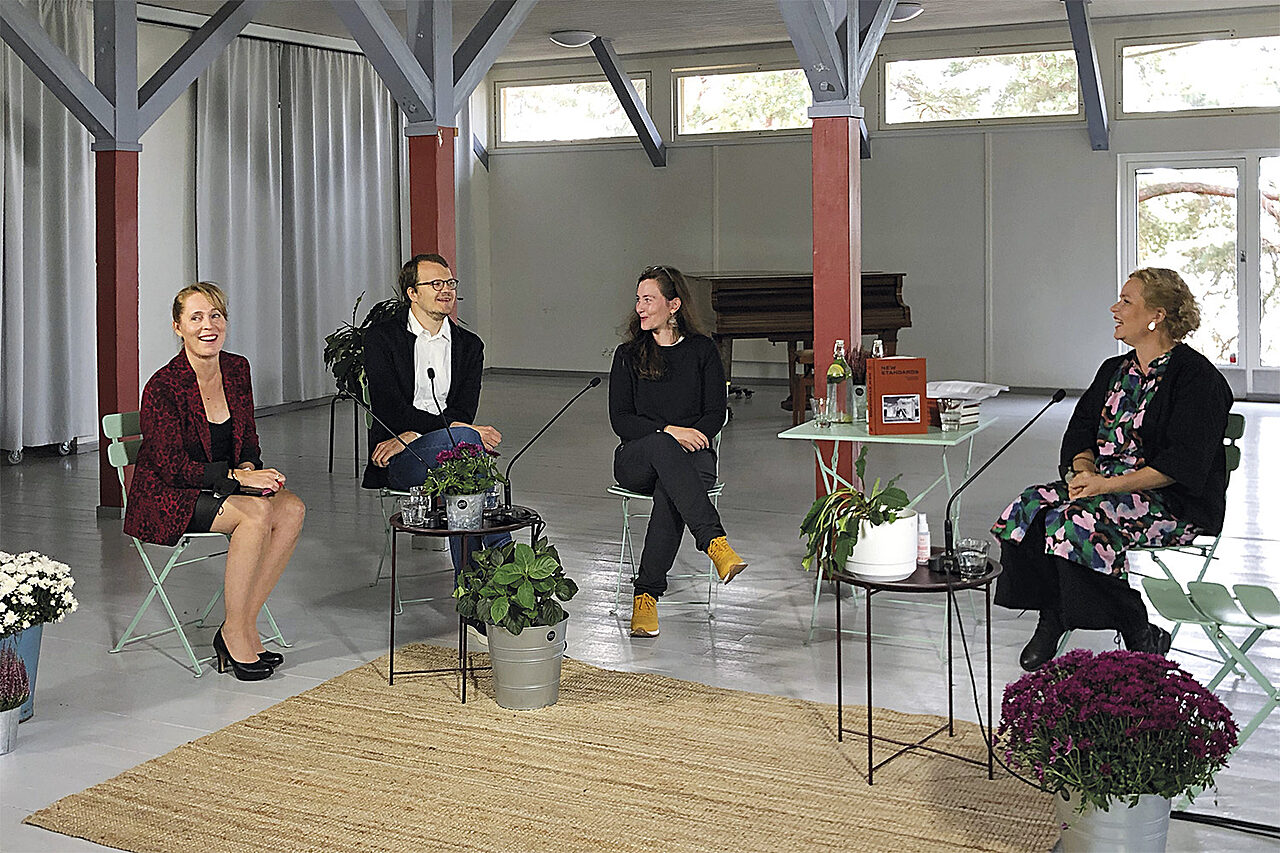 Puutalo Oy and the future of wood construction aroused lively discussion at an event organised in Helsinki on 14 September as part of the public programme of Finland's exhibition in the Venice architecture biennale.
New Standards, the Finnish exhibition at the Biennale Architettura 2021 in Venice, tells the story of Puutalo Oy, Timber Houses Ltd. A discussion event organised in Finland in connection with the exhibition focused on what could be learned from the company's history when developing future solutions.

Puutalo Oy was founded in 1940 to help resettle Karelian evacuees, after the Winter War forced nearly 420,000 people to leave their homes. Faced by a national emergency, industry, decision-makers and architects joined forces to develop a new type of prefabricated wooden house. These houses modernised the Finnish construction industry and eventually led to global exports: Puutalo Oy's houses were sold to more than 30 countries in the 1940s and 1950s.
The speakers at the event included the curators Laura Berger and Kristo Vesikansa, who were joined by Research Professor Katja Lähtinen of the Natural Resources Institute Finland. As rotating experts, the panel was joined by Pekka Heikkinen, Professor of Practice, Wood Construction at Aalto University; Niklas Jensen-Eriksen, Professor of Business History at the University of Helsinki; and Iida Kalakoski, University Instructor and Researcher in the History of Architecture and Building Heritage Management at Tampere University. The discussion was hosted by journalist Minna Joenniemi, whose exhibition Hope from Wood has recently opened at the Museum of Finnish Architecture.

Diverse prefabricated wooden houses
The general impression is that industrially prefabricated buildings all resemble each other. According to Kristo Vesikansa, Puutalo Oy proves that prefabricated elements can be used to construct numerous different types of houses. The company's standardised building elements lent themselves to a variety of solutions suitable for use around the world.
Architects were heavily involved in the first standardisation projects in the mid-20th century, and they also played a significant role in Puutalo Oy's operations. The design of standardised houses saved time, which architects used to carefully refine their plans to the smallest detail. The climate and environmental conditions as well as the cultural factors of the target country were taken into account in the architecture. This gave rise to exceptionally personal prefabricated homes.
Of course, the buildings have also been remodelled over the years, resulting in today's diversity. Puutalo Oy paid special attention to flexible convertibility, a characteristic of wood construction, which allowed for a simple base and frame that could be modified for a wide range of needs. Pekka Heikkinen - who also lives in one of the company's houses - assures that the buildings can be easily upgraded to meet modern requirements.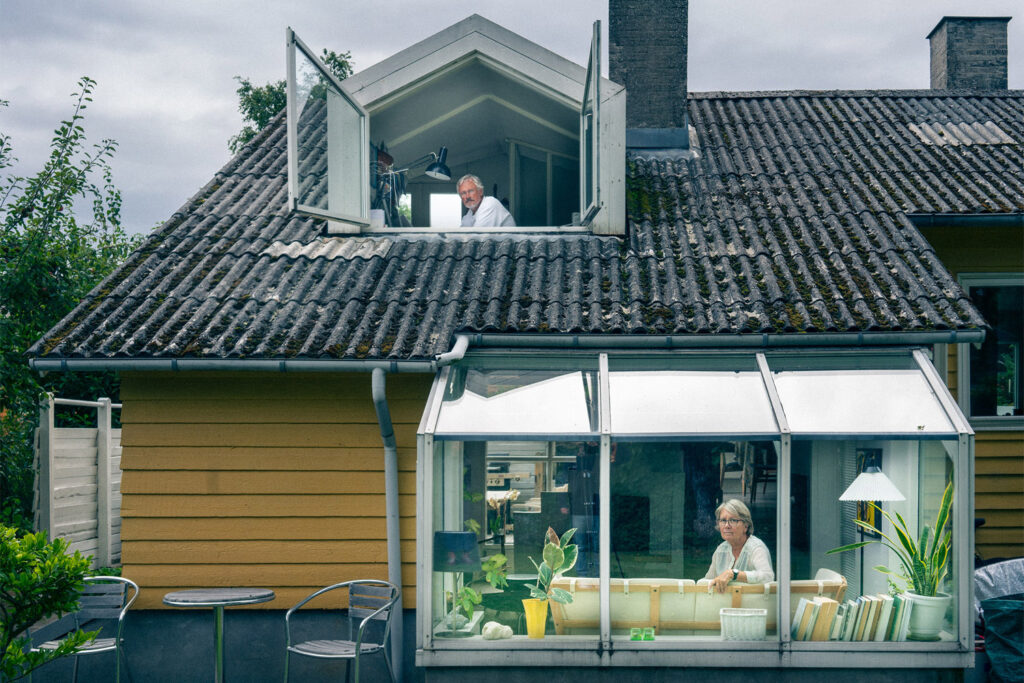 Towards a sustainable wooden house
Wood construction offers many other advantages apart from flexible convertibility. Ecology and sustainability undoubtedly attract the most attention at present, and they were also discussed at the event in Hietsun paviljonki. Puutalo Oy itself is a good example of the change in attitude towards wood construction. When resources were scarce, the use of a single material was a necessity, but nowadays it is an admirably sustainable choice that no longer reflects the user's wealth. Moreover, compact construction like that of Puutalo Oy is now seen as an ecological choice rather than as something dictated by a lack of assets.
Especially in Finland, high expectations are set on wood construction, which is hoped to be an answer to the climate crisis. However, the task is not simple. Even though Finland is a forested country and wood is a renewable and recyclable material, sustainable wood construction will not automatically become more common.
In view of ecology and sustainability, the quality of forests and forest management is very important. What is more, for the forests to have time to regenerate before the construction of a new house, buildings must be regularly maintained and renovated. According to a study published in 2014 by Satu Huuhka and Jukka Lahdensivu, residential buildings in Finland are demolished at an average age of 58, which is too low for forest sustainability.
Meanwhile, wood construction requires technical development in order to fully meet modern needs. In many cases, problems are solved by hybrid construction, where wood is only one of many building materials, which may cause new problems.
However, Professor Heikkinen is hopeful about the future, "A huge array of wood products remains unused." Science is increasingly being used in construction, and new wood products that meet current standards are constantly being developed. Heikkinen believes that instead of hybrid construction, future buildings will be built entirely of wood, except for the foundations.
Wooden apartment buildings offer new prospects for the future
The next major objective in the field of wood construction is to make wooden apartment buildings more common. "The construction of wooden apartment buildings is essential for ecological rebuilding, because wood has a smaller carbon footprint than the concrete currently in use," Minna Joenniemi suggests. However, the use of wood in apartment buildings is still a new phenomenon and a great deal of effort is required for it to replace current materials.
"While the builders of wooden apartment buildings have been struggling with fire regulations, acoustics and costs, the builders of concrete buildings have been able to develop superb balconies and the like. But once we overcome these technical challenges, it will finally be possible to really develop wooden apartment housing and introduce features wished for homes in them," says Pekka Heikkinen.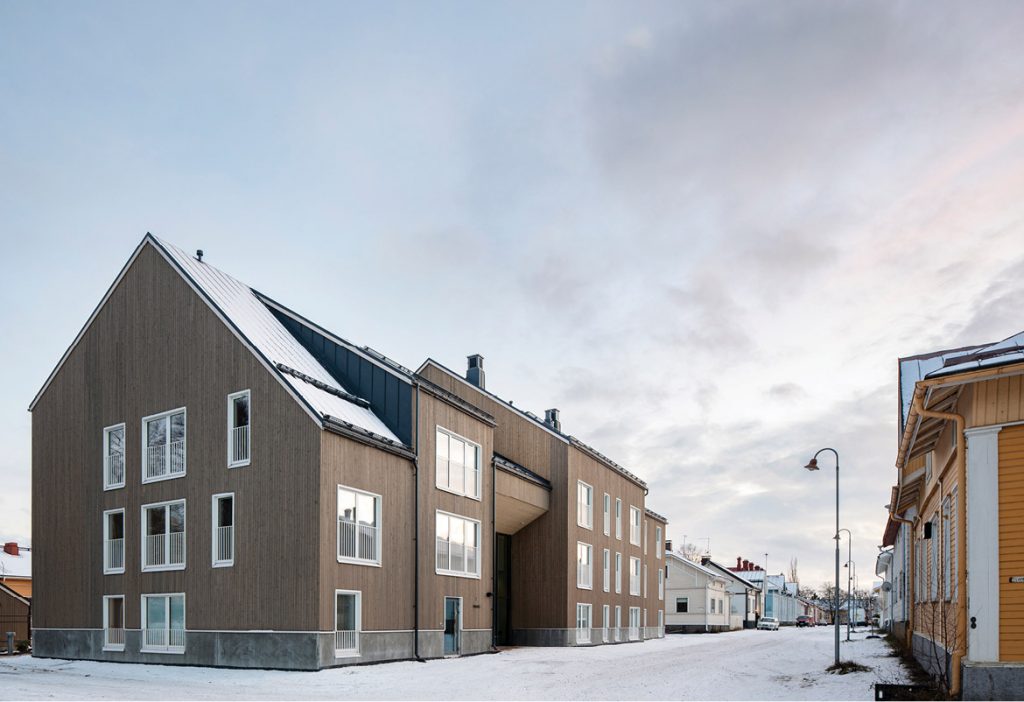 The development of building methods required by the new material can bring variation to current residential construction. For example, the introduction of spatial element construction, commonly used in wooden detached houses, into apartment buildings would enable the design of more diverse dwellings. In the words of Pekka Heikkinen, "a wooden apartment building resembling detached houses would be a huge success."
Successful exports under the pressure of world politics
"Speed and dangerous turns." This is how Professor Niklas Jensen-Eriksen describes the early stages of Puutalo Oy's exports. The company's exports were not based on individual merchants, but instead, countries were heavily involved in large export projects, especially in the 1940s and 1950s. Thus, the political situation affected Puutalo Oy's exports even more than the usual economic motives.
"Puutalo Oy was born in times of crisis. It was a child of the Winter War, grew up during the Continuation War, and lived its teenage years during the Cold War. And a lot of things happened during all those periods," says Jensen-Eriksen. Fortunately, the company was able to respond to sudden changes and always found a new customer to replace the previous one. Wooden houses were exported to Nazi Germany, the Soviet Union, the United States and Israel.
The large number of export countries is proof not only of the ability of Puutalo Oy to navigate politically challenging situations, but also of the global need for a simple product like a wooden house. The successful exports of Puutalo Oy were also boosted by Finland already having the resources, factories and know-how to produce wooden houses when the company was founded. Starting up operations did not require major investments, and the needs of future customers could be quickly met.
Working together to move forward
Puutalo Oy's export success was not only due to intergovernmental agreements. Cooperation both between Finns and with locals was a key factor in the success of operations. After the Second World War, Finland was not known abroad. Companies and their salespeople were often thought to represent not only their product but also their home country.
The establishment of good relations with new exporting countries was of paramount importance. Close attention was therefore given to customers and their wishes and needs. Plans were refined for a long time to ensure they met local conditions and satisfied the wishes of both the authorities and residents. Cooperation did not end with the arrival of building components in the port of the host country, Puutalo Oy also sent representatives to the destinations to talk about their houses and provide building instruction. The Finnishness of the houses carried a kind of brand value that is still reflected in the names of residential areas and buildings in many countries.

The panellists considered cooperation to be valuable also in the future. "Cooperation is one of the aspects that has been emphasised internationally in the building sector, regardless of the material used, because current short-term, project-based subcontracting relationships hinder the development of expertise and innovation," says Katja Lähtinen. Obviously, the cartel-like activities of Puutalo Oy are no longer possible, but they nevertheless serve as useful lessons for creating networks and informal long-term relationships.
Clearly, a good operating model and network of relationships are not enough for successful exports – an attractive product is also required. An idea was proposed by the audience: "Could a beautiful and sustainable wooden building, produced through sustainable forest management, be a selling point today?" This will certainly be a focus of development in the Finnish construction and forest industry, and also offers an opportunity for successful exports, such as those of Puutalo Oy.
Images of wood-building
Wood is our traditional building material, but influences from elsewhere and technological developments have driven Finns away from their roots. However, climate change and other global crises have led people to examine wood construction in a new light.
Wood and wood construction also give rise to contradictory images and ideas among Finns: "Various studies indicate that people find wood to be ecological and pleasant, but they are concerned about fire safety and moisture resistance. There are clear indications that in Finland and other Nordic countries, citizens and consumers who value urban living are biased against wood construction. We must be aware of such prejudices to be able to correct them," says Katja Lähtinen.
Iida Kalakoski, who is studying stigmas related to timber building heritage for her doctoral dissertation, recounts her own observations: "In conservation, when faced with a wooden and stone building, the stone building is perceived as more valuable and the wooden building more easily demolished, in poorer condition or beyond repair."
Such images date back to a time when wood was a readily available building material and only the rich could afford to build their houses from stone. In addition, our restoration doctrines have come to Finland from areas where the building stock has historically consisted of stone. This has made it difficult to create a repair and restoration model specifically suited to wood construction. Fortunately, theories of restoration and conservation are not set in stone.
What to save of wooden construction?
It is usually easy and even necessary to replace parts of wooden buildings when repairing them. This is an advantage in terms of sustainability, but a challenge in terms of protection and valuation. Laura Berger compares historic wooden houses to the ship of Theseus: if all the components of the building have been replaced, is it still the same valuable building? In the conservation and protection of wooden buildings, careful thought should therefore be given to what is the most valuable element: is it the original materials or, say, the method of construction or the architectural design?
"In the case of the houses of Puutalo Oy, the attractiveness of the buildings and areas comes from the residents having constantly shaped and expanded their homes, adding personality to the lines of identical buildings," says Kristo Vesikansa. "Could such a process be saved?" Minna Joenniemi even wonders whether the dream of a better future, characteristic of the reconstruction era, can be maintained.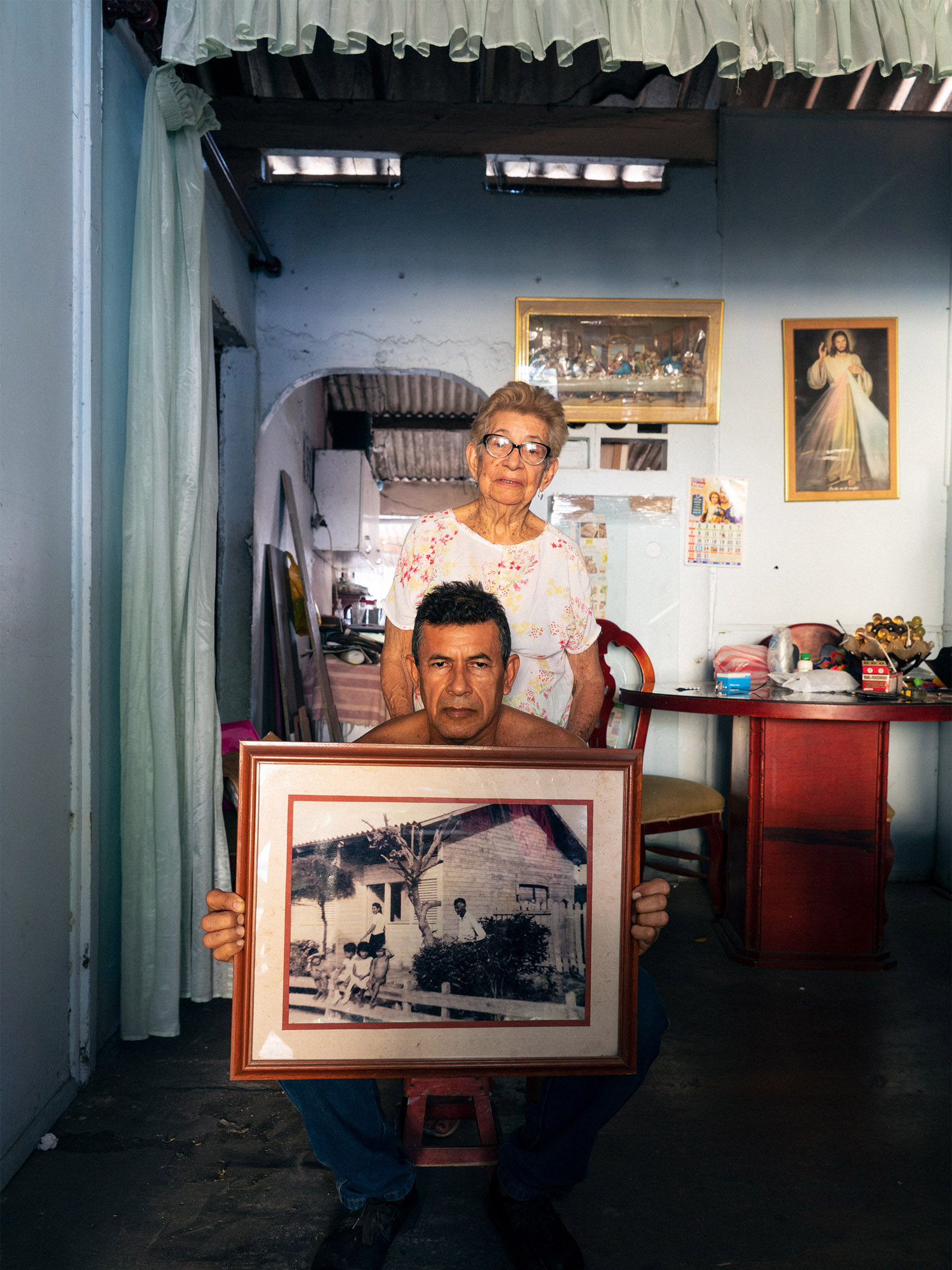 There is also a difference in the kind of wood construction that is considered valuable. Currently, many architects and students of architecture have turned their eyes on log construction. Among other things, logs are perceived as a particularly durable and ecological choice in wood construction because log frames are easy to dismantle and reassemble.
"The Kaarela school, built by Puutalo Oy, was recently demolished, but some of the elements were turned into a pavilion the size of a classroom in the school yard. So, we have at least one example of the successful reuse and transfer of these elements," says Laura Berger.
Wood comes to the rescue
Most of the wooden houses built in Finland today are prefabricated, and this also seems to be the trend in the future. Based on contributions heard at the discussion event, wood construction is not on the verge of disappearing, but instead is finding ways to adapt to the modern world. Wood, whether in the form of prefabricated elements or traditional logs, can bring much-needed variation to our building stock. In addition, the climate crisis is driving the construction industry towards renewable construction materials. Wood saved us from the hardship of wars and can do so even in the current crisis.
---
You can read more about the history of Puutalo Oy in the recently published New Standards. Timber Houses Ltd 1940–1955, the release of which was celebrated in late September at the Finnish Pavilion at the Venice Biennale of Architecture. The book, published by Garret Publications, was authored by the exhibition curators Kristo Vesikansa, Philip Tidwell and Laura Berger. Link to the presentation of the book (opens in a new tab).
The 17th International Architecture Exhibition of La Biennale di Venezia and the Finnish Pavilion's exhibition are open to the public until 21 November 2021. Link to the New Standards exhibition website (opens in new tab).
The themes of New Standards are also on display in Finland at a miniature exhibition Ikkuna Puutalo Oy:n tarinaan (Window to the story of Puutalo Oy), which can be viewed around the clock until 31 October in the windows of the Ministry of the Environment's premises at Aleksanterinkatu 7.