Back to articles
Another record-breaking year for the Pavilion of Finland at the Biennale Architettura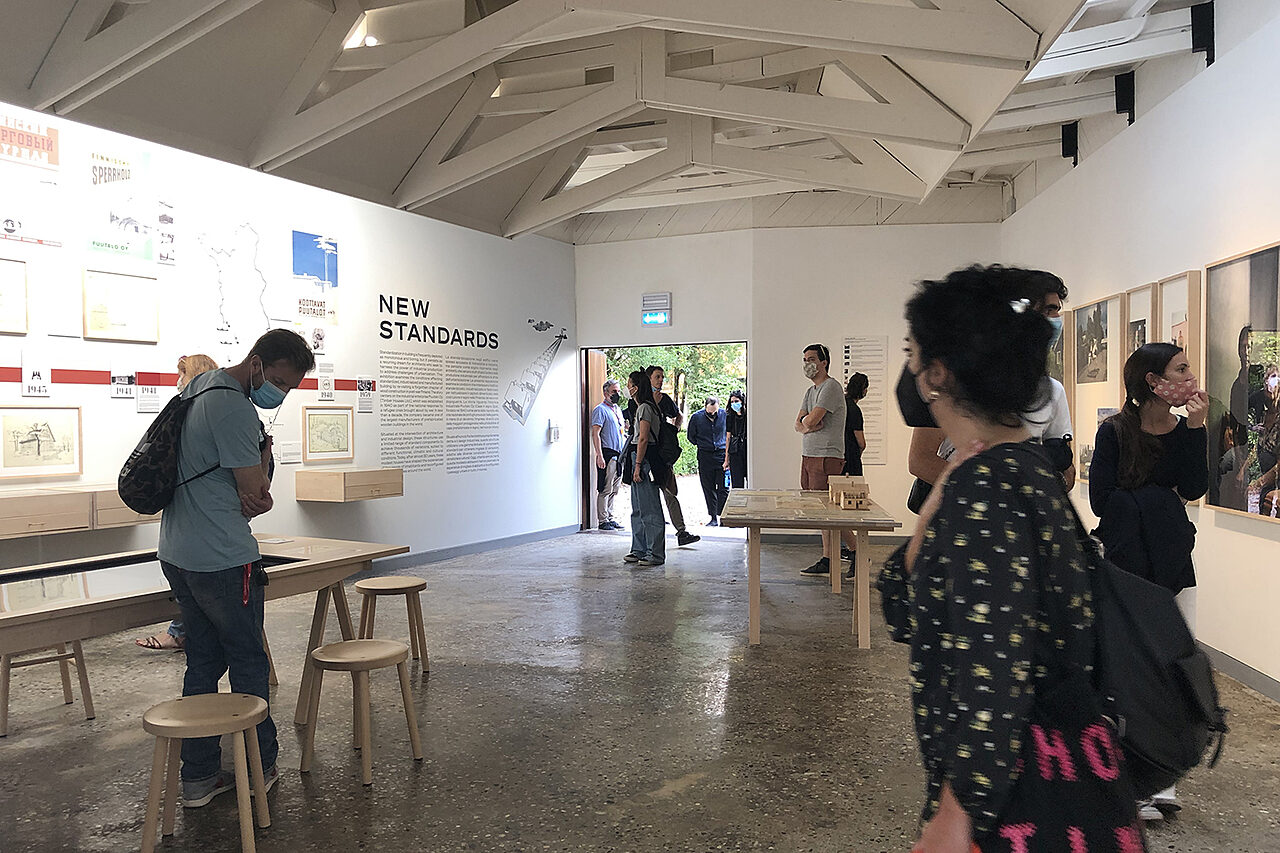 The 17th International Architecture Exhibition of La Biennale di Venezia closed on Sunday 21 November with great news: the visitor numbers saw substantial growth despite the exceptional year. The global commissioners' network will continue to collaborate in preparation of the next Biennale edition. Finland's New Standards exhibition will return home and be on display at the Museum of Finnish Architecture for the spring season.
New Standards, Finland's presentation at the Biennale Architettura 2021, received praise for its insightful theme in response to the question posed by Hashim Sarkis, "How will we live together?". During the six months of the Biennale, from May to November, the Pavilion of Finland broke its record in visitor numbers for the second consecutive time, with 107,000 visitors, which topped the previous record in the 2018 library architecture exhibition Mind-Building by almost 20,000.

Despite Covid-19, the entire Biennale Architettura hit an all-time high in visitor numbers, which exceeded 300,000. The relevance of the International Architecture Exhibition, founded in 1980, as the most esteemed arena for showcasing contemporary thinking in architecture is indisputable.
"It is essential that Finland takes part in the international discourse concerning the built environment. As a country with a strong architectural heritage, we have much to offer for the European initiatives that focus on the built environment's impact on cultural and social development. It has been an honour to be part of promoting the visibility of Finnish architectural know-how in this prestigious arena in Venice," says Petra Havu, Counsellor for Cultural Affairs at Finland's Ministry of Education and Culture.
The 2021 Biennale Architettura, twice postponed due to Covid-19, was exceptional in many ways. During the prolonged and challenging process, contacts with other countries' exhibition organisers became valuable. Archinfo Finland's original network of five commissioning organisations expanded into an actively collaborating global network of commissioners. The network initiated a shared digital platform for experiencing the exhibitions online and organised Pavilion Days, a two-day event in September, to make up for the missed events of the opening week in May.
"Collaboration and mutual support between commissioning organisations have been indispensable. Networking also opened up new possibilities, for example, for curators to take part in each other's public events, which was further facilitated by going online. These challenging times have generated positive new openings and lasting cooperation, which will be harnessed to co-develop more sustainable methods of exhibition production, among others," states Katarina Siltavuori, Commissioner of the Pavilion of Finland and Director of Archinfo Finland.
Wood as a construction material was one of the success stories of this year's Biennale. In addition to Finland, the United States, the Philippines, Japan and the Nordic Pavilion, among others, presented exhibitions studying different angles of timber construction. Curated by Laura Berger, Philip Tidwell and Kristo Vesikansa, New Standards revisits a moment in history when mass-produced wooden buildings were a response to the housing crisis of the time.
"The research we conducted on the industrial enterprise Puutalo Oy (Timber Houses Ltd.) brought out an abundance of new information, which had been buried in the depths of archives. We selected the most interesting findings to present in the exhibition and the accompanying book New Standards – Timber Houses ltd. 1940–1955. Many intriguing leads are discovered during a research process, some of which will have to be left out to wait for further investigations. For example, the furniture and structures produced by Puutalo Oy for military forces, as well as the company's later stages have many layers yet to be unveiled," tells Laura Berger on behalf of the curators.
The photography commissioned for the exhibition, depicting Puutalo homes and their residents around the world, carried the story up to today. Photographer Juuso Westerlund's strikingly personal photos were featured in depth in the Belgian art periodical DAMN. Altogether, New Standards was covered in 40 international media pieces, such as in The New York Times, BBC Online and The Guardian. An extensive interview in Monocle titled "Perfect fit" suggested that "Finland's exhibition offers inspiration and food for thought for today's architects, developers and policy-makers."
"During and after World War II, we were able to produce affordable and high-quality wooden homes for people in urgent need. Even today, Finland builds much from wood, but we would aim to discover 'today's Puutalo Oy', which would export buildings and entire wooden towns all over the world, instead of just timber. I felicitate the curators for their brilliant idea of telling the world this fascinating success story of Puutalo Oy," praises Petri Heino, Programme Director of the Ministry of the Environment's Wood Building Programme.
After Venice, New Standards will be presented in Helsinki, at the Museum of Finnish Architecture, from 21 January to 10 April 2022. The exhibition can also be visited online at newstandards.info.