Back to articles
Suomi Seven: young and new architecture exhibited at DAM Frankfurt
Finland is
the guest of honour
at the Frankfurt Book Fair 2014. As a parallel event of the world's most important literature event, the Deutsches Architekturmuseum (DAM) has co-produced an
architecture exhibition
with the Museum of Finnish Architecture and the Architecture Information Centre Finland.
Suomi Seven. Emerging Architects from Finland
introduces a full line-up of Finland's most promising up-and-coming architectural talents born in the 1970s and 80s.The exhibition has been curated by
Juulia Kauste
, Director of the Museum of Finnish Architecture,
Peter Cachola Schmal
, Director of DAM and
Anna Scheuermann
, DAM freelance curator. Expert input has also provided by
Christophe Pourtois
(CIVA, Brussels),
Ulf Meyer
(Taiwan/Berlin) and
Tiina Valpola
(Architecture Information Centre Finland). The exhibition is open for public at Deutsches Architekturmuseum (DAM) in Frankfurt, Germany, between
6.9.2014–18.1.2015
.
Selected offices
ALA Architects Ltd
Juho Grönholm (1975), Antti Nousjoki (1974), Janne Teräsvirta (1975), Samuli Woolston (1975) Main Project: Performing Arts Centre Kilden, Kristiansand, Norway Secondary projects: Kuopio Theatre Extension, Kuopio; Helsinki Central Library, Helsinki.
Anttinen Oiva Architects Ltd
Selina Anttinen (1977), Vesa Oiva (1973) Main Project: Kaisa House, Helsinki University Library, Helsinki Secondary project: Wood City, Jätkäsaari, Helsinki.
Avanto Architects Ltd
Anu Puustinen (1974), Ville Hara (1974) Main Project: New Cemetery Chapel of the Church of St. Lawrence, Vantaa Secondary projects: Kyly Sauna Billnäs, Raasepori; Four Cornered Villa, Virrat.
Esa Ruskeepää Architects Ltd
Esa Ruskeepää (1980) Main Project: Opinmäki International School, Espoo Secondary projects: Mafoombey Pavilion, Helsinki.
OOPEAA Office for Peripheral Architecture
Anssi Lassila (1973) Main Project: Kuokkala Church, Jyväskylä Secondary projects: Puukuokka Wooden Housing Block, Jyväskylä; Konsthall Tornedalen, Vitsaniemi Övertorneå/ Sweden.
Architects Rudanko + Kankkunen Ltd
Hilla Rudanko (1987), Anssi Kankkunen (1983) Main Project: Sra Pou School, Sra Pou, Cambodia Secondary projects: Sauna, Box, Raasepori; Heikkilä Atelier, Jyväskylä.
Verstas Architects Ltd
Väinö Nikkilä (1980), Jussi Palva (1974), Riina Palva (1976), Ilkka Salminen (1980) Main Project: Saunalahti School, Espoo Secondary projects: Aalto University Campus, Espoo.[caption id="attachment_1281" align="aligncenter" width="414"]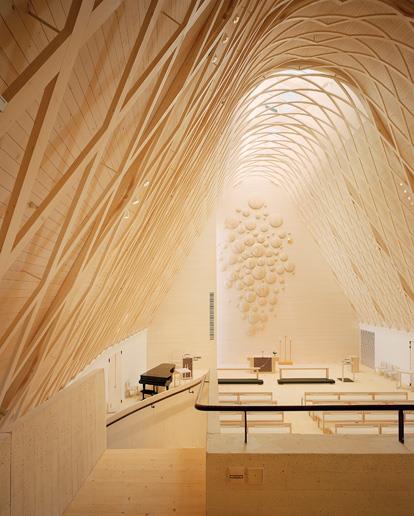 OOPEAA Office for Peripheral Architecture, Kuokkala church, Jyväskylä, Finland (2010). Photo: Jussi Tiainen.[/caption]