Back to articles
The Finnish Pavilion's exhibition presented architectural solutions for asylum-seekers at the Venice Biennale
From Border to Home
presented an exhibition accompanied by a blog and events, highlighting the results of an international architectural competition in which entrants were asked to come up with creative solutions for the temporary accommodation of asylum-seekers, while also yielding long-term benefits to the community in years to come. The Venice Biennale ended on November 27, 2016. A review of its themes will be hosted in Finland in March 2017.
[caption id="attachment_3992" align="alignleft" width="225"]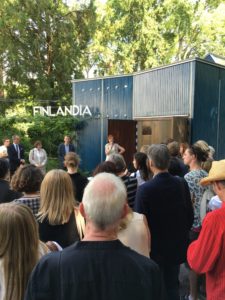 Image Mikko Laak/ Archinfo[/caption]The Finnish Pavilion's
From Border to Home
exhibition at the Venice Biennale's 15th International Architecture Exhibition attracted a turnout of 70,000 visitors through summer and autumn. The organizers report that the Biennale's visitor numbers are on the increase. The Biennale was open to the public from May 28 to November 27, 2016, attracting a total of 265,000 visitors and over 4,000 representatives of the media.
Alejandro Aravena
, curator of the 2016 Biennale, sees the exhibition as playing an important role both as a disseminator of information and as an inspirational experience for visitors. He highlights architecture's potential for solving social and communal problems: it is a vehicle both for identifying problems and for offering practical, grass-roots solutions.
From Border to Home
was Finland's answer to the challenge posed by Aravena, who asked exhibitors to present creative examples of how architecture can offer solutions that genuinely improve people's quality of life. Finland's exhibition highlighted the seven prize-winners and entries receiving honorary mentions in an open, international competition held in 2015 seeking creative proposals for the temporary accommodation of asylum-seekers.The Finnish pavilion also went deeper into the theme by hosting a series of workshops and panel discussions between architects and other community stakeholders. The varied programme exemplified Finland's international, multi-disciplinary and stance-taking approach. During the opening week, the Finnish Pavilion hosted a discussion on the topical issue of migration in Europe between the exhibition's curator,
Marco Steinberg
, the Deputy Mayor of Helsinki Anni Sinnemäki and Finnish-Iranian film director Hamy Ramezan.[caption id="attachment_3998" align="alignleft" width="300"]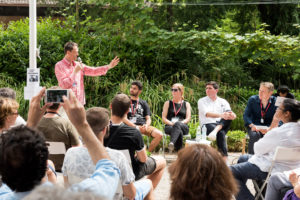 Matthew Taylor, Yasser Almaanoun, Rosanne Haggerty, David Basulto and Marco Steinberg discussing during on of the public events hosted at the Finnish pavillion[/caption]In July, the Pavilion took an in-depth look at the theme of 'Transforming Europe' in special events including a discussion on current winds of change in Europe between David Basulto, founder and editor-in-chief of the architecture website ArchDaily, and Syrian architect Yasser Almaamoun. Architects Milja Lindberg and Christopher Erdman, whose plans were also presented at the exhibition, invited Finnish MP Pekka Haavisto to reflect on how cities can be equipped to accommodate sudden migration peaks resulting from natural disasters and climate change.As an extension of the exhibition, Finland invited architects from around the world to contribute to a
blog
on the topic of housing, refugeeism and Europe's borders. The texts compiled in the blog provided comprehensive insights and offered a review of the exhibition's themes to those who were unable to attend the Biennale in person.The debate on the pan-European topics addressed by the
From Border to Home
exhibition will continue after the Biennale. In March 2017, the Museum of Finnish Architecture will host an open public event reviewing the themes of the Biennale, bringing together projects that are familiar from the Biennale and topical throughout Europe. The prize-winning entries from the
From Border to Home
competition will be on display during the event.[caption id="attachment_3993" align="alignright" width="300"]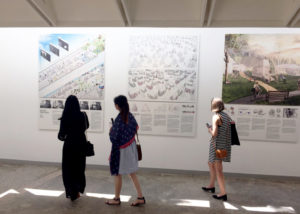 Image Jenni Lautso[/caption]The Finnish Biennale project was co-organized by the Museum of Finnish Architecture and the Architecture Information Centre Finland, with support from the Finnish Ministry of Education and Culture. The exhibition was commissioned by Juulia Kauste, Director of the Museum of Finnish Architecture and it was curated by architect Marco Steinberg.Finland also featured prominently in the Nordic Pavilion's exhibition,
In Therapy: Nordic Countries Face to Face
, as well as in the Biennale's main exhibition
Reporting From the Front
curated by Aravena. Four of the nine projects highlighted in the Nordic Pavilion were from Finland. The Biennale additionally presented 300 projects that embodied Nordic values, and a total of 43 projects were designed by Finnish studios. Finnish architects Hollmén Reuter Sandman were invited to present their work in the main exhibition in the Arsenale Pavilion.[divider]
From Border to Home blog
The Architecture Information Centre of Finland's web coverage of Finland at the Venice Biennale
An online version of From Border to Home can be accessed via the Google Cultural Institute
The Museum of Finnish Architecture's press release on the From Border to Home exhibition
[divider]
FROM BORDER TO HOME: TIMELINE
October 19, 2015– November 30, 2015 Architectural CompetitionJanuary 11, 2016 Official announcement of the resultsFebruary 3, 2016 Presentation of the proposals to Anu Vehviläinen, Finnish Minister of Local Government and Public Reforms at the Finnish Architecture Day -seminarMay 28–November 27, 2016 From Border to Home, an exhibition highlighting the prize-winning proposals from the architectural competition, is presented in the Finnish Pavilion at the Venice Architecture BiennaleMarch 2017 Concluding review in Finland
From Border to Home prize-winners featured in the Finnish Pavilion
Enter the Void (Germany)
a team:
Duy An Tran, Lukas Beer, Ksenija Zdesar, Otto Beer
Society Lab (Italy)
Society Lab:
Cecilia Danieli, Omri Revesz, Mariana Riobom
We House Refugees (Finland)
Lindberg/Erdman: Milja Lindberg
Assisted by Christopher Erdman
From Border to Home honorary mentions featured in the Finnish Pavilion
IMBY – In My Back Yard (Spain / France)
D.A.T. PANGEA + QUATORZE:
Romain Minod, Ricardo Mayor Luque, Hani Jaber Ávila, Daniel Millor Vela, Héctor Muñoz Mendoza, Claire Savina, Ruben Salvador Torres, Ignacio Taus Jiménez
Helsinkikasbah (Finland)
Harri Ahokas, Tomi Laine, Akseli Leinonen, Pia Rautiainen, Nikolai Rautio, Matias Saresvuo
Assisted by Pekka Huima
From Border to School (Finland)
alt Architects: Ville-Pekka Ikola, Tuomas Niemelä, Antti Karsikas, Kalle Vahtera Assisted by TEHAS
Start with a roof (Finland)
Satoshi Ohtaki