Back to articles
The new life of a modern masterpiece – what next for Säynätsalo Town Hall?
"To have a life, this building has to work for the community, not be a museum", concluded architect
David Fixler
at the closing discussion of the
Säynätsalo Town Hall workshop
. The highly esteemed architect specialising in heritage conservation and adaptive re-use was invited to give a lecture and comment on the workshop focusing on the future and possibilities of
Alvar Aalto
's masterpiece.The event, organised by Alvar Aalto Academy on June 7–8 with the subtitle "Modern Masterpiece in Contemporary Society", brought together 30 specialists from Finland, Germany, Italy, Canada and the United States. The aim was to provide new multi-disciplinary information and understanding of the values and prerequisites for the future use of the building no longer serving in its original use as a town hall. Since 1993, after the municipality of Säynätsalo merged with the city of Jyväskylä, only parts of the building have been in active use.The challenge was approached in three working groups themed 'Public', 'Commercial' and 'Environment'. The groups were moderated by architect
Jonas Malmberg
and director
Tommi Lindh
from Alvar Aalto Foundation and professor
Olli-Paavo Koponen
from Tampere University of Technology. A representative of the owner, the City of Jyväskylä, participated in the work of each group. Professor
Markku Hedman
, director of Alvar Aalto Academy, chaired the workshop."During these two days Säynätsalo Town Hall has been very lively, more than usual. This has been an important event in thinking about the future of the building", stated Hedman in his closing words under the famous fan-shaped wooden trusses of the council hall.[caption id="attachment_4103" align="alignnone" width="618"]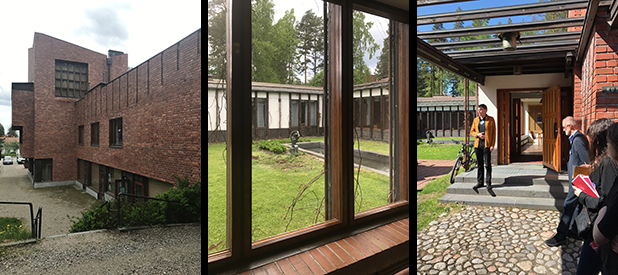 Säynätsalo Town Hall in June, 2017. photos: Miina Jutila / Archinfo; Nina Heikkonen / Alvar Aalto Academy[/caption]The overall objective is to prepare a Conservation Management Plan (CMP) for Säynätsalo Town Hall designed in late 1940s and completed in 1952. The Paimio Sanatorium CMP, prepared in 2015, works as an example. From the experiences of the workshop the Alvar Aalto Academy aspires to develop a method with which similar plans could also be prepared for other Aalto buildings.Currently the town hall is home to a municipal library, a cafeteria and a hair salon whereas a number of commercial premises remain empty. The building complex also includes six apartments, of which four are rented out and two are available for tourists. A further two guestrooms also serve visitors and tourists. The
accommodation services
and cafeteria are run by an entrepreneur who also manages
public access to the building
.After the workshop events focusing on Aalto continued in Jyväskylä. The Aalto researchers network seminar "
Why Aalto?
" gathered altogether 60 participants from 12 different countries and four continents under the roof of Jyväskylä Workers' Club, Aalto's early work from 1925, where sixteen international researchers presented their papers. In addition, David Fixler was invited to give a lecture on the renovation of Aalto's Baker House at MIT and professor
Jenni Reuter
, in her lecture open to the public, spoke about what she has learned from Aalto. Recordings of the lectures may be found
here
.Coinciding with the international workshop and seminar, the Alvar Aalto Museum opened its summer exhibition
Schildt & Aalto. Modern humanists
. The exhibition celebrates the centenary of the birth of Aalto's close friend, writer and historian
Göran Schildt
, as well as the 100-year jubilee of Finland's independence. The exhibition was opened by
Christine Schildt
, who in her speech told many touching anecdotes of the times she and her husband spent with Alvar and
Elissa Aalto
. The exhibition is open until September 17.[caption id="attachment_20749" align="alignnone" width="618"]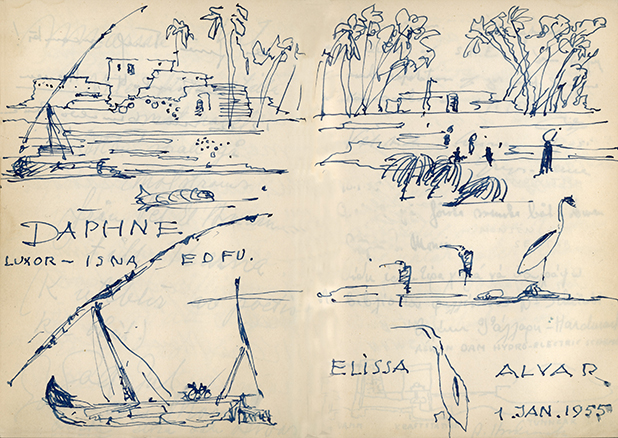 Alvar and Elissa Aalto visited Göran Schildt's sailboat Daphne in 1954–55. A spread from the guestbook. illustration: Christine and Göran Schildt Foundation (^^)[/caption]