Back to articles
The Nordic Pavilion exhibition at the Venice Architecture Biennale 2016
The Nordic Pavilion at the Venice Architecture Biennale 2016 will discuss the so-called "Nordic Spirit" in recent architecture of Finland, Sweden and Norway. The 300 projects are exhibited under the title 
"In Therapy: Nordic Countries Face to Face"
 and the exhibition has been thematised into three categories. 
Foundational
exemplifies architecture that cares for basic needs;
Belonging
focuses on architecture that embodies or encourages public engagement; and
Recognition
is about architecture that reflects upon social values distinctive to the Nordic countries. The projects have been selected by
David Basulto
, Chilean architect and co-founder, CEO and Editor-in-Chief of ArchDaily with the assistance of 
James Taylor-Foster
, British designer, researcher, writer and ArchDaily's European Editor-at-Large.Finland has a strong presence in the Nordic Pavilion exhibition in 2016. Four of the nine projects which have been selected for an in-depth presentation are designed by Finnish architecture firms:
Puukuokka Housing Block in Jyväskylä, Finland (2014) by OOPEAA Office for Peripheral Architecture;
Finnish Nature Centre Haltia in Espoo, Finland (2013) by Lahdelma & Mahlamäki Architects;
Seinäjoki City Library in Seinäjoki, Finland (2012) by JKMM Architects; and
Kilden Performing Arts Centre in Kristiansand, Norway (2011) by ALA Architects.
Furthermore, Finnish architectural expertise is demonstrated in the 46 projects included in the exhibition:
Aalto University, Department of Architecture, Wood Program: Luukku House, 2010
Aalto University, Department of Architecture, Wood Program: World Design Capital pavilion, 2012
Aalto University, Department of Architecture, Wood Program: Säie pavilion, 2015
ALA Architects: Kuopio Theatre Renovation & Expansion, 2014
ALA Architects: Lappeenranta theatre
alt Arkkitehdit Oy & Arkkitehtitoimisto Karsikas Oy: Ruukki health care centre, 2014
alt Arkkitehdit Oy & Arkkitehtitoimisto Karsikas Oy: Niemenranta school centre, 2012
Anttinen Oiva: Kaisa library, 2012
Avanto Architects: Chapel of St. Lawrence, 2010
B & M Architects: Kehärata railway stations (Kivistö, Leinelä, Vantaankoski), 2015
Casagrande laboratory: Apelle, 2013
Casagrande laboratory & Hans-Petter Bjørnådal (FI/NO): Nomad City, 2012
Heikkinen-Komonen Architects: Hämeenlinna provincial archive, 2009
Heikkinen-Komonen Architects: Savonlinna main library, 2013
Helin & Co Architects: Villa Krona, 2010
Helin & Co Architects: Metsä Wood Group and MELA headquarters, 2012
Hirvilammi Architects: A' House, 2014
JKMM Architects: Saunalahti children's house, 2011
JKMM Architects: OP financial group's headquarters, 2015
JKMM Architects: Lahti travel centre, 2016
K2S Architects: Kamppi chapel of silence, 2012
K2S Architects: Arctia headquarters, 2013
K2S Architects: Hotel Paasitorni, 2012
Anssi Lassila: Sauna Tonttu, 2010
MX_SI (ES) & Huttunen-Lipasti-Pakkanen Architects (FI): Serlachius Art Museum / Gösta's pavilion, 2014
OOPEAA: House Riihi, 2010
OOPEAA: Kuokkala church, 2010
PES-Architects: Kehärata railway stations (Aviapolis, Helsinki-Vantaa airport, Ruskearanta, Viinikkala), 2015
Playa Architects: Mårtensbro school, 2012
Playa Architects: Kotisaarenkatu housing, 2013
Playa Architects: Kettukallio, 2009
Portaali Architects & ArkOpen: Kalasatama townhouses, 2014
Rintala Eggertsson Architects (FI/NO): Arboretum, 2013
Rintala Eggertsson Architects (FI/NO): Filter, 2013
Rintala Eggertsson Architects (FI/NO): Høse Bridge, 2013
Rintala Eggertsson Architects (FI/NO): Seljord Watchtower, 2013
Talli Ltd: Tila housing block, 2010
Talli Ltd: Café Birgitta, 2014
Tuomas Siitonen: House M-M, 2013
Tuomas Siitonen: Sauna V, 2015
Tuomo Siitonen Architects: Helsinki courthouse, 2010
Tuomo Siitonen Architects: Smoke Sauna Joensuu, 2015
Architect Office L&M Sievänen Ltd: Onni wellness centre, 2008
Kirsti Sivén & Asko Takala Architects: Harjunkulma housing block, 2014
Verstas Architects: Saunalahti school, 2012
Verstas Architects: Kirkkojärvi school, 2010
The Nordic participation at the Venice architecture biennale is a collaborative project between
Museum of Finnish Architecture
, Helsinki, the
National Museum's Department of Architecture
, Oslo, and
ArkDes
– the Swedish Centre for Architecture and Design, Stockholm.The full listing of the 300 projects is available as a pdf file 
here
.[caption id="attachment_3157" align="aligncenter" width="660"]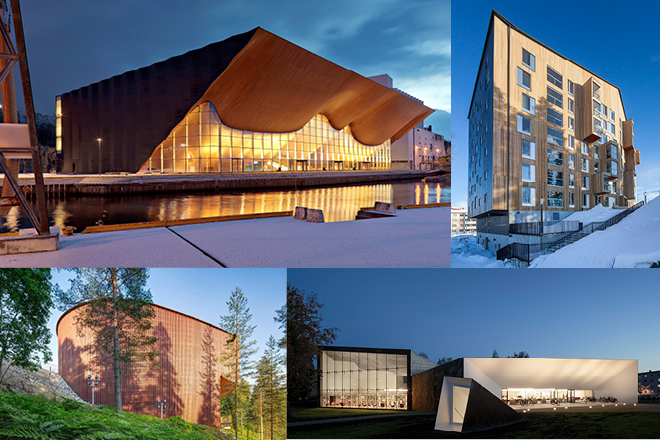 Collage of the four Finnish projects on display at the Nordic Pavilion: Kilden (ALA Architects, photo Iwan Baan); Puukuokka Housing Block (OOPEAA, photo Mikko Auerniitty); Finnish Nature Centre Haltia (Lahdelma & Mahlamäki Architects, photo Mika Huisman); Seinäjoki City Library (JKMM Architects, photo Tuomas Uusheimo).[/caption]