Back to articles
Amos Rex opens a new book series on Finnish architecture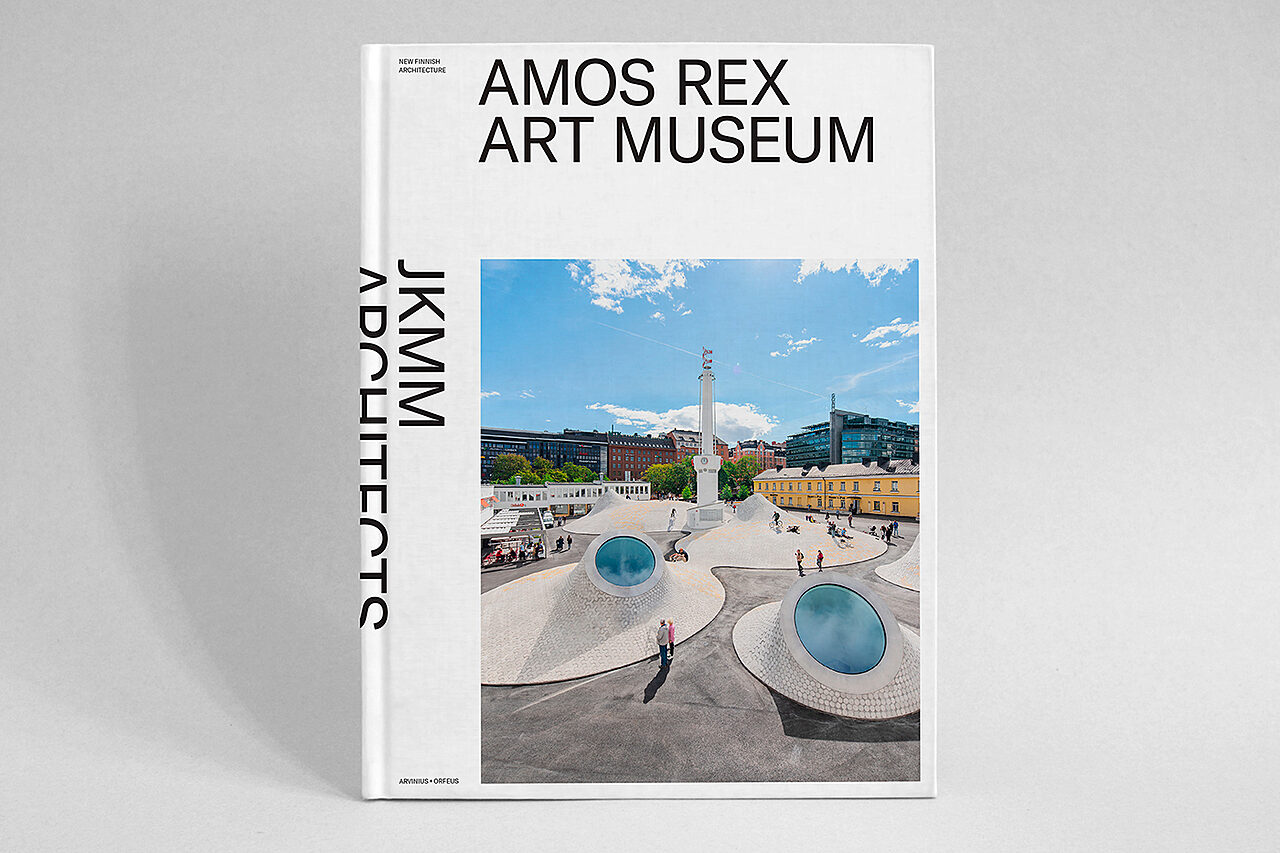 The book series New Finnish Architecture is published by Arvinius + Orfeus, a leading Nordic publisher specialising in architecture and design. Archinfo Finland the project's partner.
The book, to be published on May 25, is the first work on the Amos Rex Art Museum. The museum, which opened in Helsinki in the autumn of 2018, has gained immense popularity among both its users and the international architectural media. Adapted into the functionalist gem, Lasipalatsi completed in the 1930s, and underneath the adjacent square, the museum has become a landmark building transforming the public urban space in Helsinki city centre.
Amos Rex Art Museum – JKMM Architects presents the building, which consists of the beautifully restored functionalist part and underground spaces for art, thoroughly with photographs and drawings as well as well-informed texts. It also takes a strong position on the importance of museums as part of their environment and society, in both local and global contexts.
The foreword to the book was written by Gunvor Kronman, a Finnish-Swedish cultural influencer and CEO of the Hanasaari Cultural Center. A long essay by art historian, curator and writer Lars Nittve, who is the former director of museums such as Tate Modern, Louisiana Museum of Modern Art and Moderna Museet, reflects on Amos Rex from the perspective of a museum professional and visitor.
"Amos Rex is an iconic museum building that provides space for both art and museum visitors," Nittve estimates.
The discussion between the architect and the client, JKMM Architects' Asmo Jaaksi and museum director Kai Kartio, sheds light on the project's background, design process and ambitions. An essay by Thomas Lauri, a Swedish architectural critic and editor of the book, depicts Amos Rex as part of a tradition that draws from natural forms, inspired by Le Corbusier and Alvar Aalto.
Arvinius + Orfeus is the Nordic Region's leading international publishing house specialising in architecture, contemporary art and design books.
Archinfo has been collaborating with the publisher since 2018.
Book launch event hosted by Dezeen
Amos Rex Art Museum – JKMM Architects will be launched on Tuesday 25 May at 6 pm (CET) in a live stream event, which will be hosted by the global architectural web publication Dezeen.
The panel will discuss the impact of museums and museum buildings on the surrounding city and their role as developers of a more open city, urban culture and public spaces.
The speakers are Priya Khanchandani, chief curator of the London Design Museum, Lars Nittve, the book's editor, and artist Karoliina Hellberg, one of the artists in the exhibition Between Us currently shown in Amos Rex. The discussion will be hosted by Cajsa Carlson, Associate Editor of Dezeen.com.