Back to articles
More from less: Finnish architecture, design and fashion moving towards a more sustainable future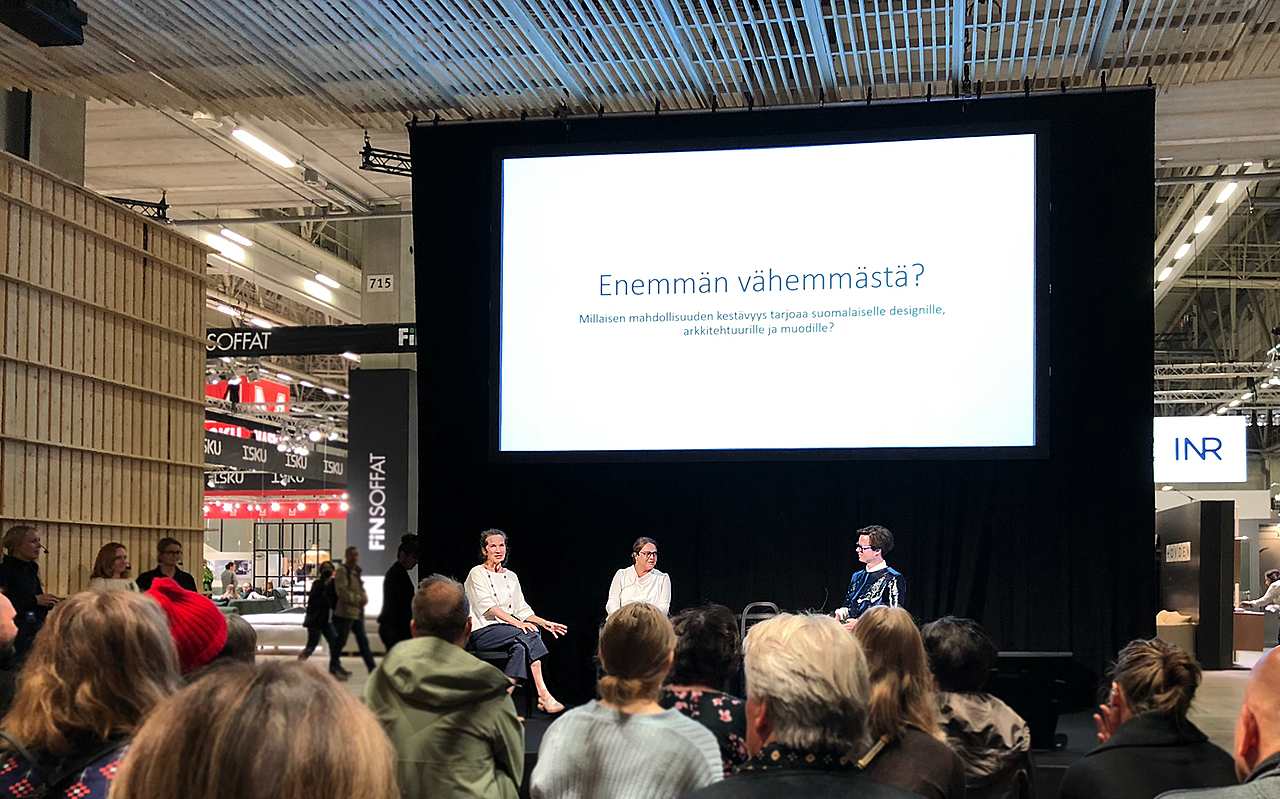 Anna Rusi
Archinfo, Finnish Design Info and Fashion Finland took to the stage at Habitare to discuss the possibilities of sustainability. The joint project of the three design organisations aims to strengthen the profile of their sectors at home and abroad.
Archinfo, Finnish Design Info and Fashion Finland got together for the first time on Friday 9 September on the stage of Habitare. The panel discussion explored the challenges and opportunities of sustainability in both the development of the three fields and the building of a national brand.
The aim of the joint project is to strengthen Finland's international image through the three fields and to bring together a network of experts to highlight new Finnish know-how. The project will focus in particular on the strengths of communications work and the opportunities to update the Finnish Design brand internationally. The core themes of the joint communication campaign include sustainable transition and finding new, insightful solutions through the design sectors.
Fashion Finland's Business Director and Editor-in-Chief Sami Sykkö, Finnish Design Info's Project Manager Katja Lindroos and Archinfo's Executive Director Katarina Siltavuori opened the discussion by introducing each other and the joint project.
The panel discussion was chaired by Sykkö and included a panelist from each design sector: Katja Kantola, CEO of fashion company Mifuko, Jenni Roininen, Creative Director of furniture manufacturer Nikari, and architect Maiju Suomi. The conclusion of the stimulating discussion was clear: responsible production and sustainable development have opened new doors for Finnish architecture, fashion and design.
Designers' awareness of their choices, consideration of materials and production chains, and a comprehensive approach to sustainability awareness emerged from the discussion, and sustainability is also one of the main themes driving the joint project forward. New market and consumer demands are also emerging in terms of responsibility, requiring a multi-voiced debate along the entire production chain.
The joint project aims to create an optimal framework for the growth of Finnish architecture, design and fashion. By joining forces, the three organisations can both modernise design, already seen as Finland's strength, to meet sustainability criteria and take it to the world stage in a more responsible way.