Back to articles
New European Bauhaus Goes Digital brings the creative industry and digitalisation together on 28 Oct.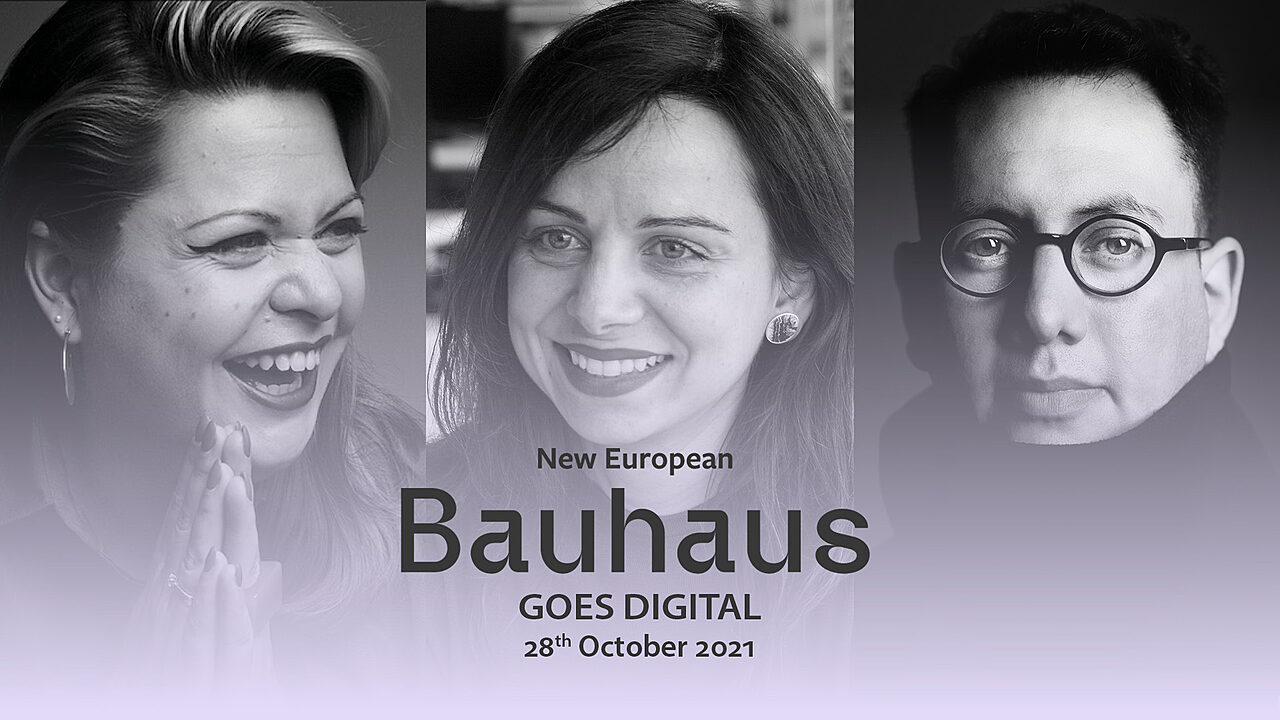 The international New European Bauhaus Goes Digital event focuses on the relevance and prospects of digitalisation and parameterization in architecture, design and art.
The online event brings the creative industry together to discuss questions such as: What kind of societal and cultural changes are we facing due to ongoing systemic change in the field of design and architecture? What opportunities does the digitalized future bring? Where are we at combining AI and design today? In the international online event participants will hear interesting keynotes about the possibilities of data-driven methods in design, architecture and art.
Lisa Lang is a European technologist and innovative textile expert and founder of ElektroCouture and ThePowerHouse Agency. Martha Tsigkari is a Partner at Foster + Partners. Her background spans architecture, engineering, and computer science. Her work for the Applied Research and Development group incorporates computational design, human-computer interaction, machine learning, and optimisation. Refik Anadol is a media artist, director and pioneer in the aesthetics of data and machine intelligence. In taking the data that flows around us as the primary material, Anadol offers us radical visualizations of our digitized memories and expands the possibilities of architecture, narrative, and the body in motion.
In the event's Demo Rooms participants get to see and experience contemporary examples of data driven methods and innovations. The presented demos were chosen through the Call for demos application in August and September. Themes of the Demo rooms are Cities and Neighbourhoods, Buildings, User-Oriented Design and Material Flows.
The event is organized by the Finnish Ministry of the Environment in cooperation with the Building Information Group Finland, Aalto University, University of Porto, The Bureau of European Design Associations BEDA, and Archinfo Finland.
The event is linked to the New European Bauhaus initiative, which aims to bring together the perspectives of art, culture, social inclusion, science and technology to build beautiful, sustainable and inclusive living environments. In spring 2021 Archinfo Finland participated in organizing Nordic New European Bauhaus events and compiled the data obtained from the workshops to support the co-design phase of the European Commission. Read more about the Nordic New European Bauhaus events and the report made from them through this link (opens in a new tab).
The event is organised online. Registration is now open. More information: (The links open in a new tab)
New European Bauhaus Goes Digital event
New European Bauhaus Goes Digital keynote speakers and demo presenters