Back to articles
On wood and its potential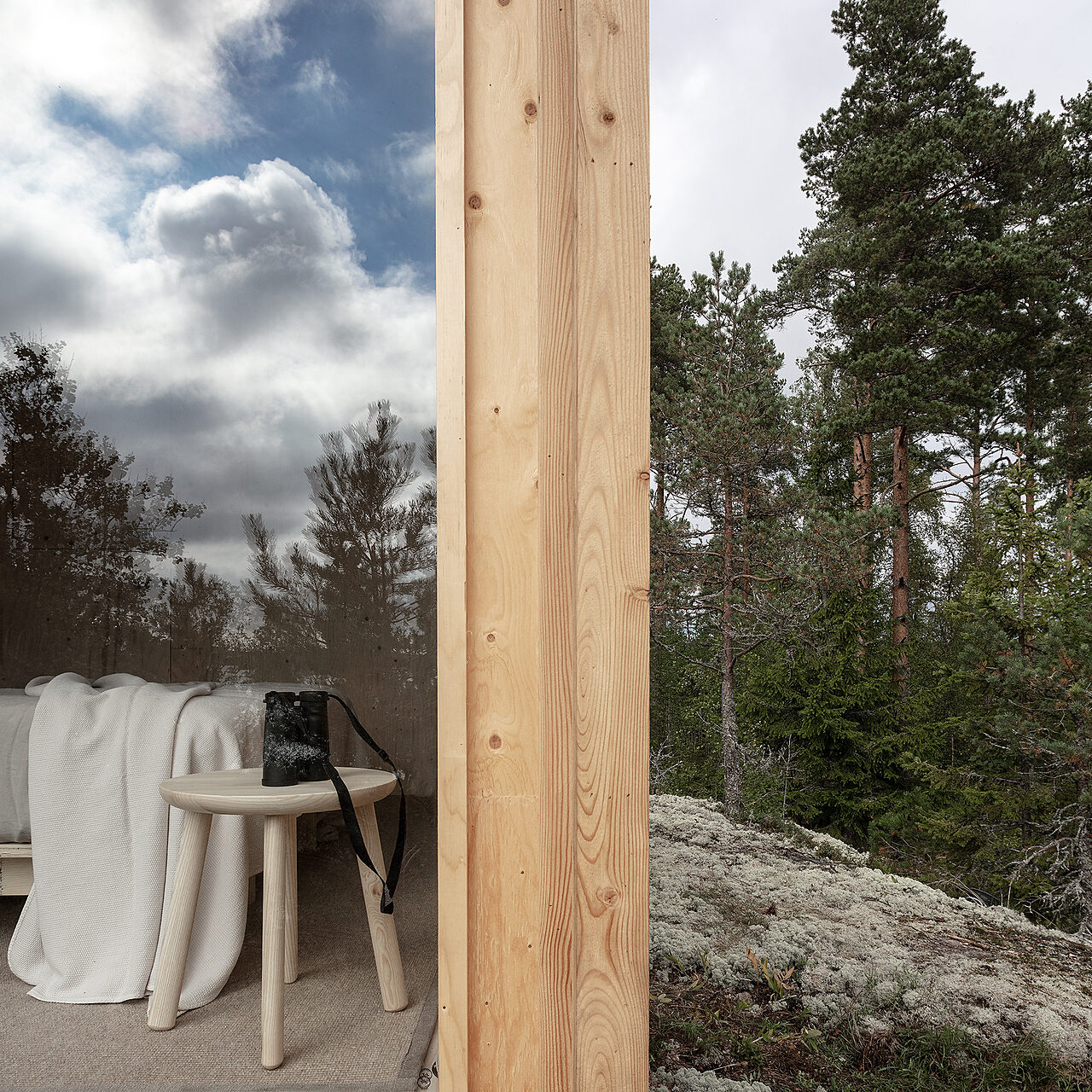 Studio Puisto / photo: Marc Goodwin
When talking about the climate crisis, questions related to wood and forest use have come to the fore in Finland. The topic is also current in the fields of architecture, design and, surprisingly, fashion, too, and spurred a lively discussion among the panelists we had invited to share their thoughts on wood.
Archinfo's webinar 'From Forest to Production' discussed domestic wood expertise and its future. What do design professionals and creative minds think about the use of wood in Finland? We invited three experts to share their thoughts.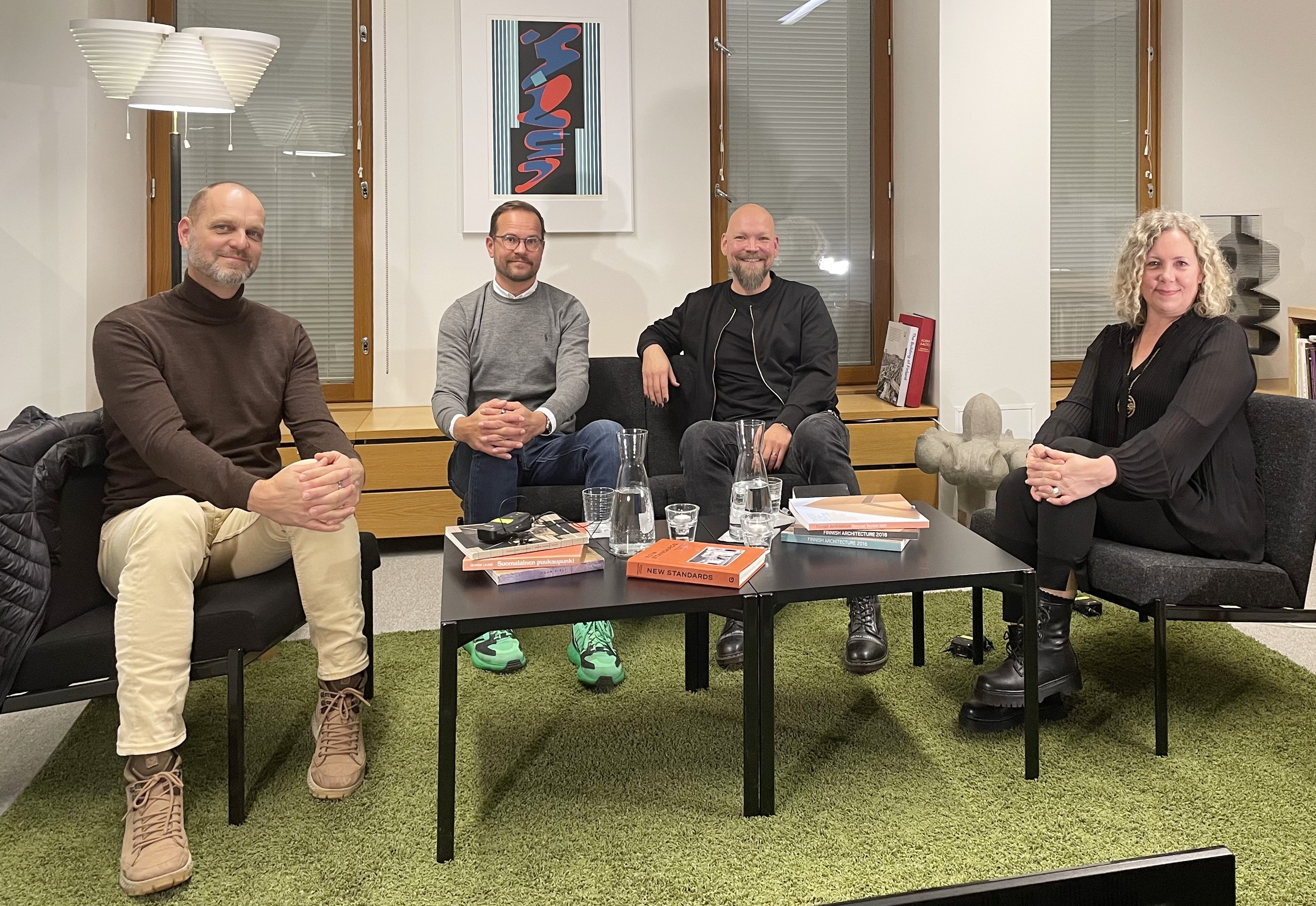 Jaakko Torvinen is a newly graduated architect whose design for the Little Finlandia events center has caught the eye of the international media. Alongside his architectural work, he teaches wood architecture at Aalto University.
Olli Kähkönen is the co-founder and Chief Innovation Officer of Nordic Bioproducts Group, a Finnish start-up that develops new biomaterials based on a process that enables an inexpensive and environmentally friendly way to produce microcrystalline cellulose.
Designer of many long-lasting and award-winning products and interiors, interior architect Antti Olin has for the past decade worked as Design Director of Finland's leading furniture company Isku.
The discussion was moderated by architect Miina Jutila, Archinfo's Head of Communications, who is currently working on a project to promote Finnish wood architecture.
Watch the recording of the English language webinar here. The panel discussion is kicked off by a video insert presenting contemporary Finnish wood architecture and Dr. Jukka Mikkonen's philosophical remarks on forest. Total duration 59:59.
Forest provides many kinds of resources
The panel discussion was preceded by an inspirational and philosophical talk on the many meanings of forest, in which Dr. Jukka Mikkonen reflected on the forest's character and structure.
Inspired by the talk, the panelists took on topical and multifaceted questions: How can we utilise our forest resources in a more effective way? How do we recycle or reuse already used wood? What kind of possibilities are there in wood-based recycled materials?
---
Forest has been giving a lot to Finland. But times are changing, and the world is changing. Maybe we could go towards more high-added-value products in the future?
– Olli Kähkönen, Nordic Bioproducts Group
---
About 75% of Finland's land area is covered by forest, but despite this, we have just now turned the forest from a carbon sink to an emission source. Also, nearly 40% of Finland's total energy consumption occurs in buildings. So is it a bad thing to cut the forests for a building?
"I think it is one of the best things to do," says Torvinen. "We should use them for long-term products." This is because carbon dioxide bound to wood can remain in wooden objects for centuries – replacing concrete with wood helps to bind carbon dioxide and thus significantly reduce emissions related to architecture. Sustainable use of wood also has a significant role in the national 'Carbon neutral Finland 2035' climate and energy strategy.

Torvinen wants to take wood's long life cycle into account with his designs. Little Finlandia is a good example of that: The building used as a temporary relocation for Finlandia Hall has been designed – without compromising on beauty – in such a way that parts of it can be reused for the same purpose for the next 50 years.
Forests can be an important ally in curbing emissions related to construction and design. "Right now, we use too much wood and energy. But if we can change the construction industry greener, we will change the problem into a solution," Torvinen says.
From production to circulation
Olin agrees with Torvinen, pointing out that currently, a huge part of Finnish wood goes into manufacturing products that are used only once, such as cardboard and toilet paper. If we switched the focus to producing something with more added value, carbon emissions would shrink.
Design brings out the best qualities of wood: its warmness, the ability to absorb sounds, its beauty in full. "When it comes to design, we should be making long-lasting products," Olin says. "High-quality buildings and furniture, for example."
It is necessary to reduce the carbon footprint of the whole manufacturing process. Isku is investing in carbon neutrality with a quick schedule: for example, the nearly hundred-year-old company has put more than 6,000 solar panels into use at its factory in Lahti this fall, aiming at running the factory entirely on solar energy in the near future.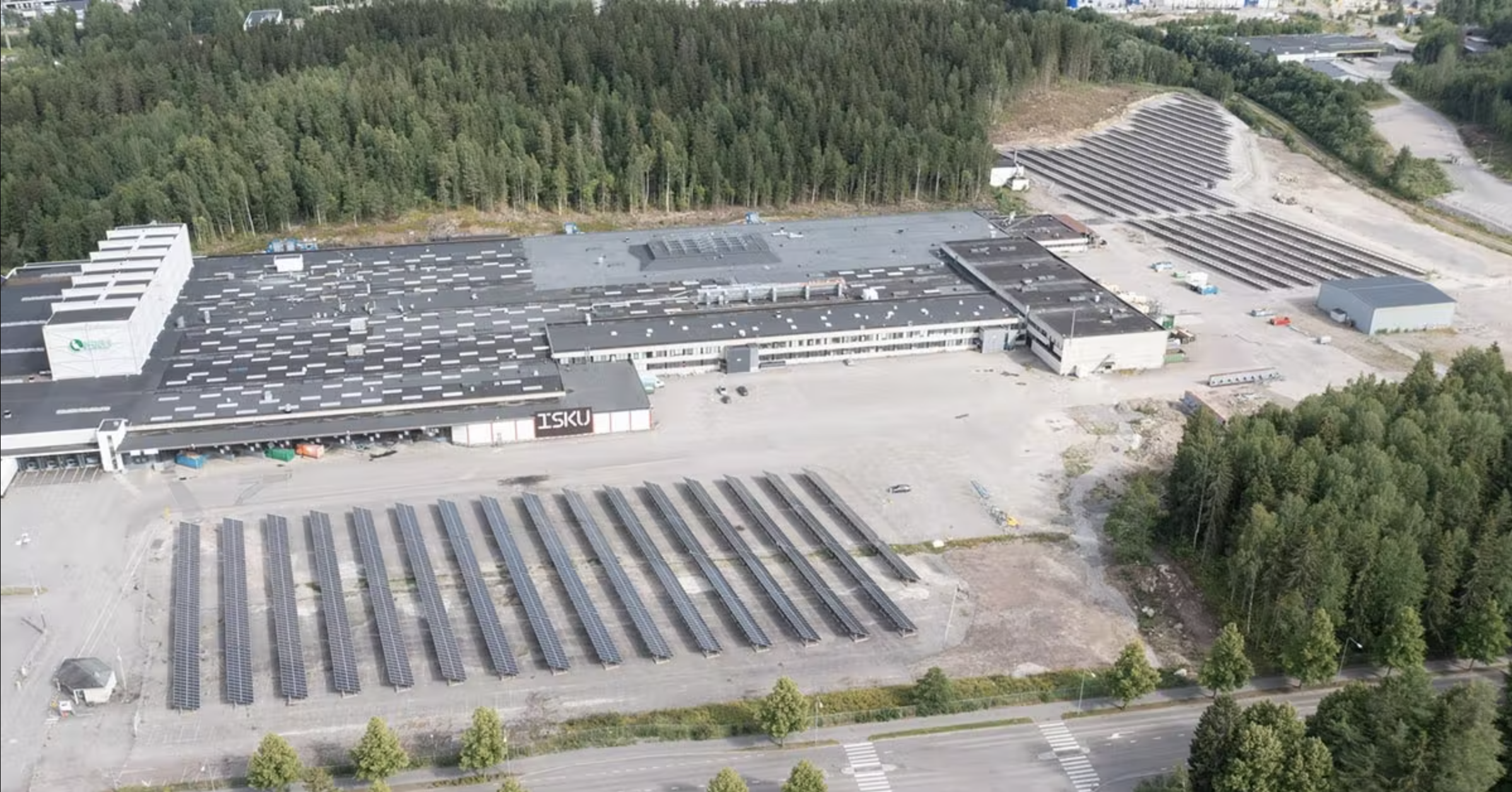 It is estimated that more than 200,000 tons of wood waste is generated in Finland per year. The utilisation of this massive amount of waste could help significantly in reducing deforestation and our dependence on oil.
This has already been done with pulp. For example, at ISKU, the use of plastic has been successfully cut down by replacing part of the plastic in their furniture with pulp.
Kähkönen notes that finding ways to utilise pulp has been really important. "Pulp comes from the excess parts – in theory at least," says Kähkönen. He emphasises the possibilities of transforming pulp into high-value materials that could be used in medicine, food industry, chemistry and cosmetics, for example. "Forest has been giving a lot to Finland. But times are changing, and the world is changing. Maybe we could go towards more high-added-value products in the future?"
There is plenty of new companies in Finland developing environmentally friendly bio-based materials from wood. Kähkönen's start-up Nordic Bioproducts Group is finding ways to utilise not only waste material from wood production but also other forest vegetation in order to increase the resource efficiency of forestry.
Technological innovations benefit the fields of architecture, design and fashion and might play a key role in increasing Finland's competitiveness. "At the moment, we are the number one country in the world in creating novel ideas from wood," Kähkönen says. "We have developed a lot of new biobased textile materials in Finland."
Sustainable options
Wood brings many opportunities for replacing materials that are harmful to the environment. But even though many materials in packaging, textiles, and construction can already be replaced with more ecological wood-based materials, an even bigger systemic change is needed. Wood-based glitter is not enough – we need a completely new approach to forests and wood so that life on Earth is also secured in the future.
---
"When it comes to design, we should be making long-lasting products. High-quality buildings and furniture, for example."
– Antti Olin, Isku
---
Design can enable a better future and help correct the mistakes of the past. When products are designed in terms of forests and the circular economy and not the other way around, Finnish wood expertise plays a key role in combating climate change.
"Finland isn't yet utilizing its green gold fully," Kähkönen summarises. "But maybe in the future, hopefully."
The webinar, organised by Archinfo, was part of a series of events organised together with Finnish Design Info and Fashion Finland, aiming to highlight the similarities and synergies between architecture, design, and fashion.