Helsinki Design Week 2022: What to see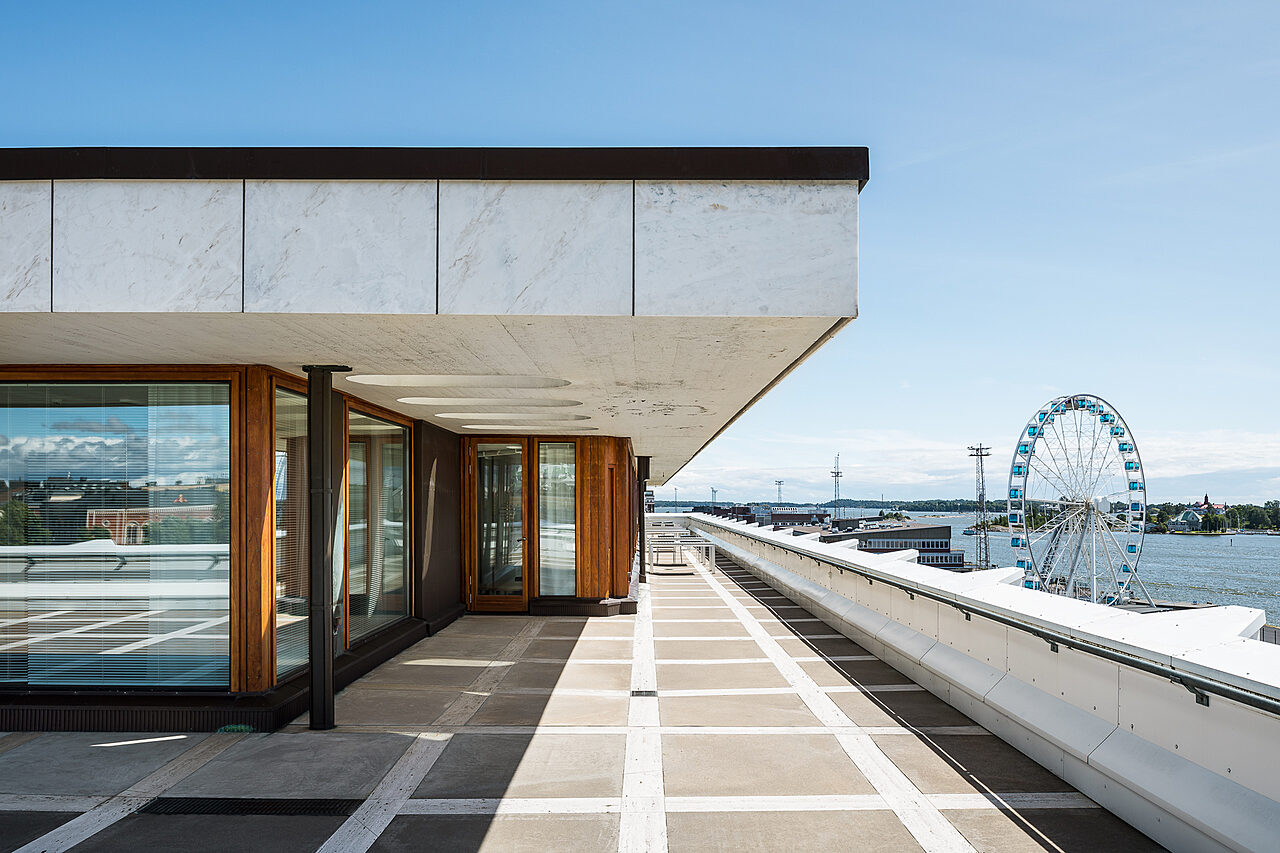 Helsinki Design Week, the largest multidisciplinary design festival in the Nordic countries, takes place from 1 to 11 September around the city. We've gathered a list of events for architecture enthusiasts.
The festival's annual theme "We are open" invites visitors to explore, experiment and learn. The 18th edition of Helsinki Design Week offers a total of some 250 events, exhibitions and discussions. This year the main venue will be the iconic Enso Gutzeit's headquarters, designed by Alvar Aalto.
HDW Main venue
1.–11.9.
Kanavaranta 1, Helsinki
Helsinki Design Week's main venue changes annually. For the ten days, this year's location will be at Kanavaranta 1. This iconic building, designed by Alvar Aalto and known as Enso Gutzeit's headquarters, was completed in 1962. During Helsinki Design Week, it will be open to the public for the first time. There will be no exhibitions at the main venue this year – the top floors of the building will be dedicated to brainstorming and exchange of ideas. Restaurant Kuurna has been invited to cater on the top floor, and visitors can expect delicious dinners in intimate cabinets with the best views to the city.
On Monday 5 September and Wednesday 7 September at 17:00, the main venue's wine bar will host a discussion on sustainable architecture and design, organised by Archinfo and Finnish Design Info. Speaker details will be updated later.
Read more through this link.
Discussions
PechaKucha Night, Aalto University
Wed 7.9. 6–8 pm
Otakaari 1, Espoo
The 4th part of the Designs for a Cooler Planet exhibition series will open at Aalto University Aalto scholars, designers and the local business community all invite HDW goers to Otaniemi, Espoo, to experience "Life 1.5". About twenty projects combining research and design will be on show: textile made from water hyacinth, wood glitter, fabric filling made of cattail, and plenty of sustainable fashion and architecture. As part of the opening ceremony, we'll organize a public PechaKucha Night at Kandidaattikeskus in Otaniemi.
Read more through this link.
PechaKucha Night, Kallio Church
Thu 8.9. 8.20 pm
Itäinen Papinkatu 2, Helsinki
Fast-paced PechaKucha builds upon the idea of a Tokyo-based architects' office Klein Dytham: the speakers are allowed to use only 20 images and only 20 seconds to talk about each image. There's a lot you can say in just 6 minutes and 40 seconds. During the nearly 20 years of HDW, we have heard amazing and inspiring talks about gardens, typography, climate crisis, spas, traffic signs, new materials, structural racism and trendy desserts, for example. We'll hear interesting notes from specialists of different fields during this year's Helsinki Design Week.
Read more through this link.
Design Diplomacy
2.–9.9.
in various embassy residences
Once again, Design Diplomacy will open the doors to ambassadors' residencies and invites the most interesting people to visit and engage in conversation. It is based on a discussion concept of two speakers present at an ambassador's residence. One of the speakers is a future design professional from Finland and the other from the embassy's home country. The speakers meet over a card game where each card contains a question/topic. The cards are selected at random, and the speakers cannot prepare for the topics in advance – this will ensure the surprise factor.
Read more about the events through this link.
New AD-Museum: Open Design Professions
Fri 9.9. 9–11 am
Tiedekulma / Stage, Yliopistonkatu 4, Helsinki
How can a new museum for architecture and design in Helsinki help push for a more inclusive, diverse, and open profession? What is the role of an architecture and design museum in bringing change to the design field and how is the design field uniquely positioned to bring change to the societies we live in? We explore these and other questions with cross-disciplinary design professionals who are each fighting for a broader definition of the fields they work in and pushing the role of architecture and design in approaching the most complex issues of our time.
Read more through this link.
Exhibitions and guided tours
An Exhibition called Animal Architecture
1.9.–30.10.
Kasarmikatu 24, Helsinki
In 1995 an exhibition called Animal Architecture opened at the Museum of Finnish Architecture. The exhibition was designed by Professor Juhani Pallasmaa, together with a work team of zoologists, and it was regarded worldwide as a unique collaboration. It is a good time to ask Juhani Pallasmaa, what he now thinks about animal architecture. Alonzo Heino, a doctoral researcher in aesthetics at the University of Helsinki, who is familiar with the relationship between human skills, art, technology and nature, will discuss these themes with Pallasmaa.
Read more through this link.
Architecture Walking Tour: Historical Helsinki
Thu 1.9. at 17–19
Kasarmikatu 24, Helsinki
Helsinki is defined by remarkable buildings that reflect its rich history. Learn about Finnish history, people, building materials and techniques that make Helsinki the attractive city it is today.
Architecture walking tours series is written and hosted by Gayle McKeen. She holds a Ph.D. in political science from the University of Chicago and has taught at universities in the United States and the United Kingdom.
More information through this link.
Installation: Nature Gallery
9.–11.9.
Pikku-Finlandia, Karamzininranta 4, Helsinki
Nature Gallery is an installation created by designer Anni Valkola. The installation is built between two pillars of the Pikku-Finlandia terrace and it consists of plants and other natural products collected from the nearby nature. Through her work, Anni wants to create experiences that offer new perspectives on humanity and the world around us.
Read more through this link.
Exhibition: Designs for a Cooler Planet
7.–11.9.
Otaniementie 14, Espoo
Aalto researchers, students and designers invite you to experience and explore what Life 1.5 could be. It's a five-week-long festival that celebrates experiments in planet-friendly materials, fashion, and food. The festival includes three science & design exhibitions consisting of over 20 projects at Otaniemi. You can also join the open seminars or visit the satellite exhibitions at Helsinki.
Read more through this link.
Fair: Habitare 2022
7.–11.9.
Messuaukio 1, Helsinki
Finland's largest furniture, design and decoration event Habitare offers inspiration and experiences for five days. The event showcases new and old, highlights different styles, takes a stand, and looks to the future. The theme of the 2022 Habitare is Reimagine. The theme highlights the power of imagination and what the world around us could be in the future.
Read more through this link.
Children's events
HDW Children's Design Week
1.–11.9.
Children's Design Week's main event will focus on the design of the future city, giving a voice to kids and youth about what kind of a city centre would be genuinely open to them.
HDW also gives the floor to children to create their version of the super popular PechaKucha Night event. At Oodi, school children will take the stage. They will speak about topics that are inspiring and exciting to them right now.
Read more about the events through this link.
Everyone's home & city!
10.–11.9.
Entresse Shopping Centre, Siltakatu 11, Espoo
What would the city of the future look like? One that everyone would recognize as their own? Who would live there? Come to the Helinä Rautavaara museum to build and design together a common home and city for everyone from recycled materials! The workshop is intended for all ages and is free of charge. Entrance to the museum is also free.
Read more through this link.
You might also be interested in