Back to articles
Archinfo celebrates its 10th year by rebranding – a new identity manifests a new strategy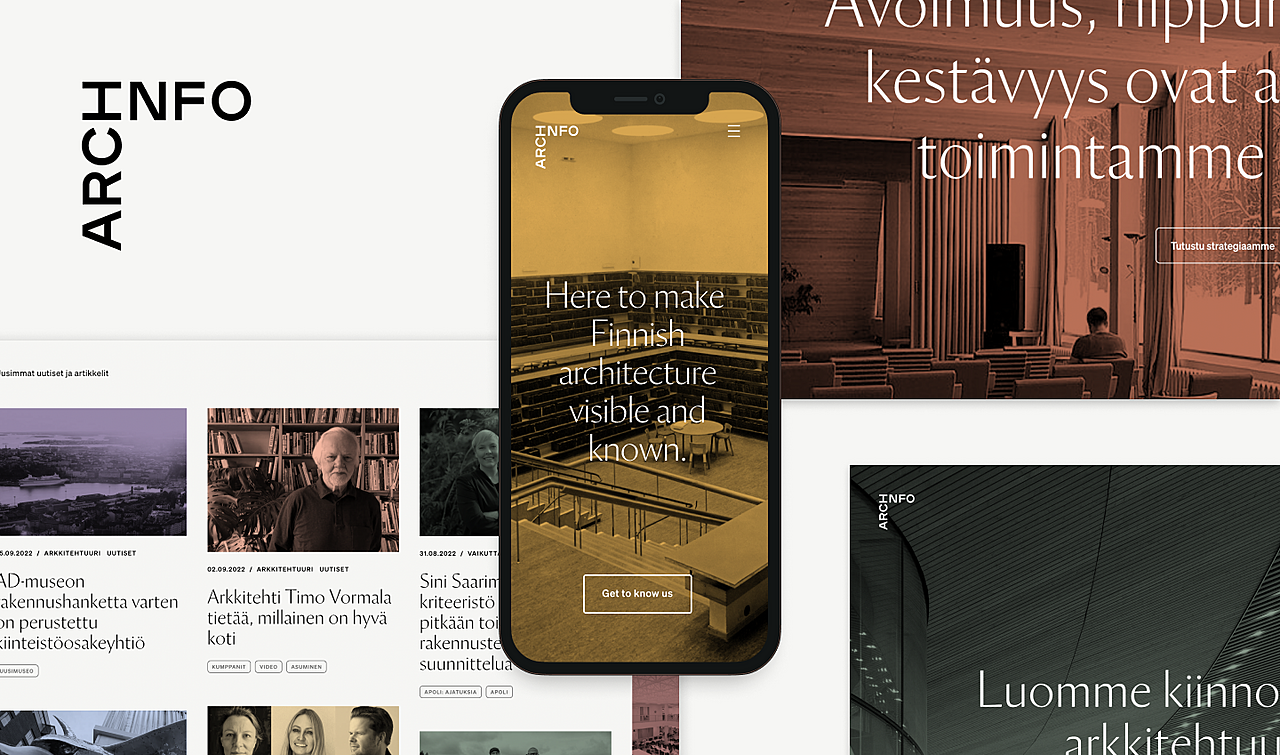 Agency Leroy
This year marks ten years since the foundation of the association running the information centre for Finnish architecture. A new website and visual identity reflect the objectives of our new strategy as Archinfo enters its next decade.
Arkkitehtuurikeskus ry, the association maintaining Archinfo's operations, was founded in 2012, and the information centre started operating the following year. In ten years, Archinfo has established its position in the Finnish architectural field and expanded to new territories as well.
The new strategy, implemented this year, encapsulates Archinfo's operations into three categories: creating interest in Finnish architecture, making Finnish architecture internationally known and strengthening the social impact of architecture.
In dialogue with our stakeholders
Leading up to our strategy work in 2021, we conducted research on Archinfo's image among our audience and stakeholders. According to the questionnaire, Archinfo is regarded to be straightforward and topical, and an expert in its field, but some of the answers depicted our organisation as unnecessarily careful, stiff and hard to reach. The research showed that our website is one of our most prominent communication channels, and a third of the respondents said they used the website often or on a daily basis.
In the digital age, a 10-year-old website is inevitably dated. Archinfo's site needed updating, which also came up in the research. In addition, according to the questionnaire, our brand needed crystallising and Archinfo to connect stronger to the general public. The answers also suggested that our website should highlight brighter our own operations.
With the feedback and the guidelines drawn by our new strategy, we set out to renew Archinfo's visual identity and website. We wished our new visual identity to be airy, clear, and just the right amount of playful. We wanted our new website to reinforce the positive notions brought forward by our research but also to support our progress in becoming more brave, agile and accessible.
Agency Leroy was selected to design the identity and website
Towards the end of 2021, after discussions with six graphic designers and website developers, we commissioned the Helsinki-based creative agency Agency Leroy to collaborate with us.
"Creating a brand for an organisation in the architectural field was a dream commission for us. The dialogue with Archinfo was very fruitful, and we instantly formed a shared vision," says Leroy's Creative Director and Co-founder Janne Hänninen, who was in charge of the visual identity. Graphic Designer Tintin Rosvik participated in implementing the different applications of the identity.
"The job of a visual identity is to create a framework for the subject matter without stealing the attention. As in architecture, with an identity we aim to create a space or a platform for its new inhabitants: the content. An identity is built up from well thought-out typography and a clear grid. Into the logo, we wanted to instil playfulness and flexibility: it can be set into any corner of the page, thus creating a frame for the information without stepping on its toes," continues Hänninen.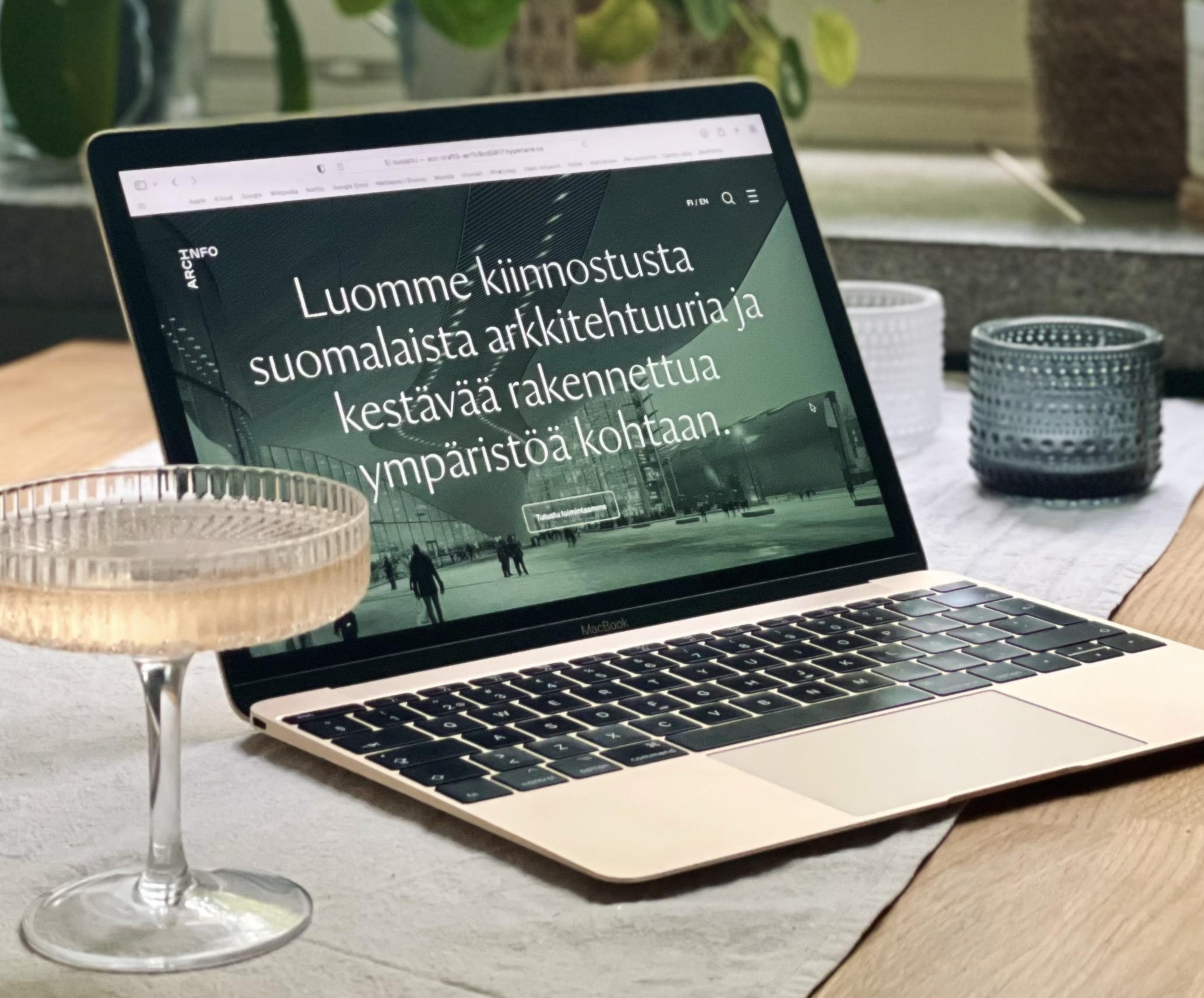 A simple structure facilitates browsing
In the past ten years, Archinfo has published thousands of news, articles and events on its website. During the early years, the Finnish and English language websites were separate, until they were merged in 2018. Some of the older content is still relevant, and for documentation purposes, it was important to us that all the articles would move to the new website as well.
"We've done quite some work to ensure that Archinfo's impressive article archive is still accessible. We've transferred thousands of articles, photos and data to the new platform and connected different language versions. Ensuring a successful outcome was very important to me, and that's why I wanted to do it personally," says Leroy's partner and Head of Customer Strategy Rickard Lindgren, who was in charge of web development. In the technical implementation, he teamed up with Tech Lead Martin Stigzelius.
"In this project, we wanted to emphasise the user experience: accessibility and user-friendliness. Additionally, it was important for us to create a flexible framework for the website, one that can easily adapt to changes and even be used in a completely new system, if need be", continues Lindgren.
Renewing the identity and website is a long and significant process, where ambitions are put up against the entire organisation's objectives. At Archinfo, our Head of Communications Miina Jutila was in charge of the project, but the entire staff took part in the process in workshops and comment rounds.
We would love to hear your feedback on our new brand and website! Please send mail to Miina – you can find the contact information by clicking on her name on top of the post.