Back to articles
Finnish architects join the worldwide declaration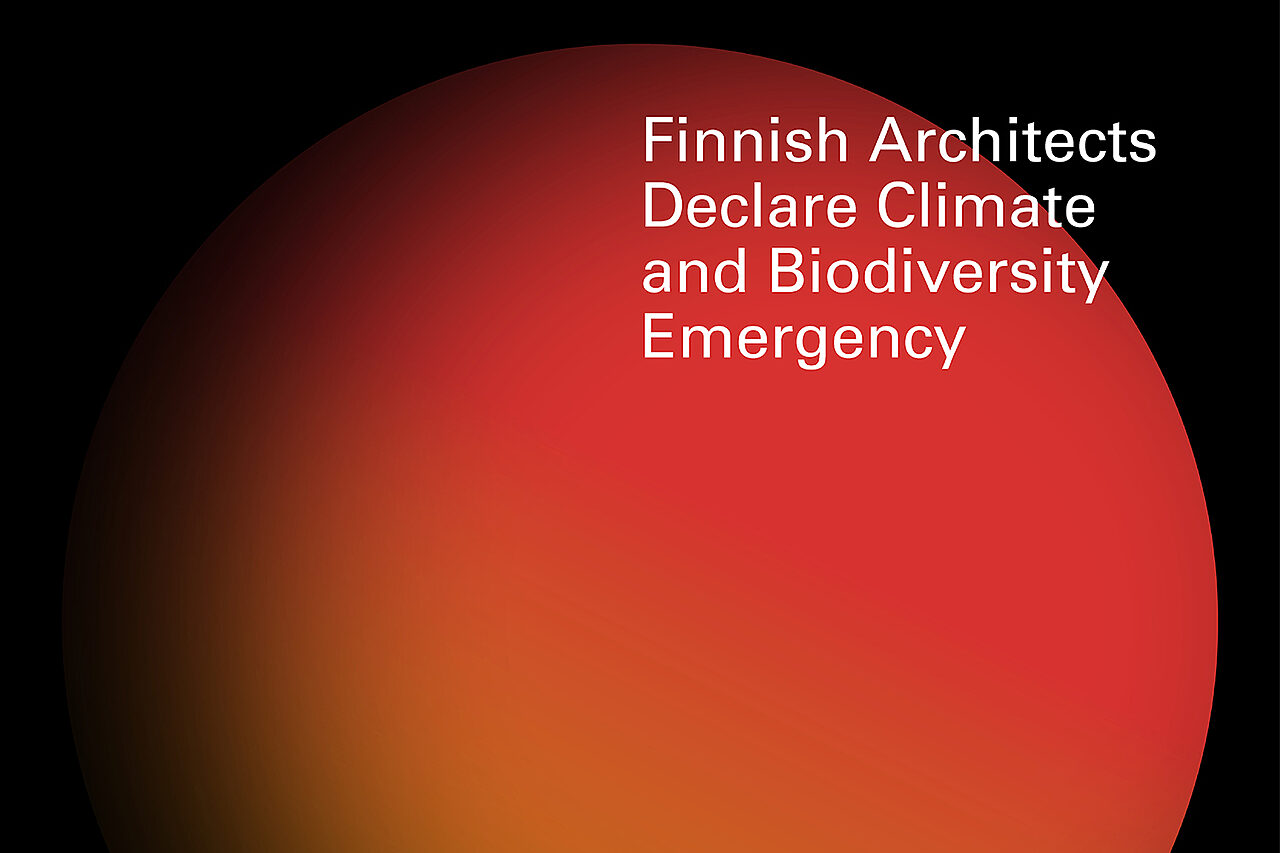 Originated in the United Kingdom, the Architects Declare petition has grown into a global movement. Initiated by architects' offices, the declaration now comprises the entire construction field. Today, Finland joins the declaration as the 21st country by opening the dedicated website, Architects Declare Finland.
The twin crises of climate breakdown and biodiversity loss is the most serious long-term issue of our time. Buildings and construction play a major part, accounting for nearly 40% of energy-related carbon dioxide emissions whilst also having a significant impact on our natural habitats.

For everyone working in the construction industry, meeting the needs of our society without breaching the earth's ecological boundaries will demand a paradigm shift in our behaviour. The change has to start now.
"Many forces greater than single architectural practices have an impact on the construction industry but the shift in the mindset can start with us architects. We can share information and be in dialogue with our clients, and the choices we make in our design work have an impact. The research and technology needed for the transformation already exist, now we just need to find a collective will. We welcome all our Finnish colleagues to join and sign the declaration," says architect Meri Wiikinkoski of Vapaa Collective, one of the founding signatories of the Finnish declaration.

"Currently we are struggling through a sudden, unparalleled crisis, which urges us re-evaluate our core values. It is a good moment to look beyond the Covid-19 pandemic, onto an even bigger and more global crisis, which, unless we radically change our ways of life, will lead to a climate catastrophe. It is great that Finnish architecture firms have now joined this movement for the sake of our planet and wellbeing," says Miina Jutila, acting director of Archinfo Finland.
By the time of its 1st anniversary on May 30th, 22 countries will have joined Architects Declare with Finland and the United States being the latest arrivals. The original UK Architects Declare petition has already been signed by 937 architects' and landscape architects' offices.
The Finnish declaration was initiated by a group of active, environmentally conscious architectural practices together with four organisations in the field of architecture. For English language information on the commitments the declaration demands, please visit the original UK Architects Declare site through this link.
Link to Architects Declare Finland (in Finnish)
Link to the global hub Construction Declares
Founding signatories of Architects Declare Finland: AOR Architects, ARRAK Architects, Avarrus Architects, BST Architects, Collaboratorio, JADA Architects, LOCI Landscape Architects, LPR Architects, Luo Architects, Nomaji Landscape Architects, Nordic Works Collective, PES Architects, Studio Puisto Architects, Architects Rudanko + Kankkunen, Architects Tommila, VAPAA Collective and Virkkala de Vocht Architects.
Standing by the signatories and supporting the commitment as partners:
The Association of Finnish Architects' Offices ATL, Archinfo Finland, Finnish Association of Architects SAFA and The Finnish Association of Landscape Architects MARK.
#architectsdeclare
#architectsdeclarefinland
On Facebook:
Architects Declare Finland
@architectsdeclarefinland