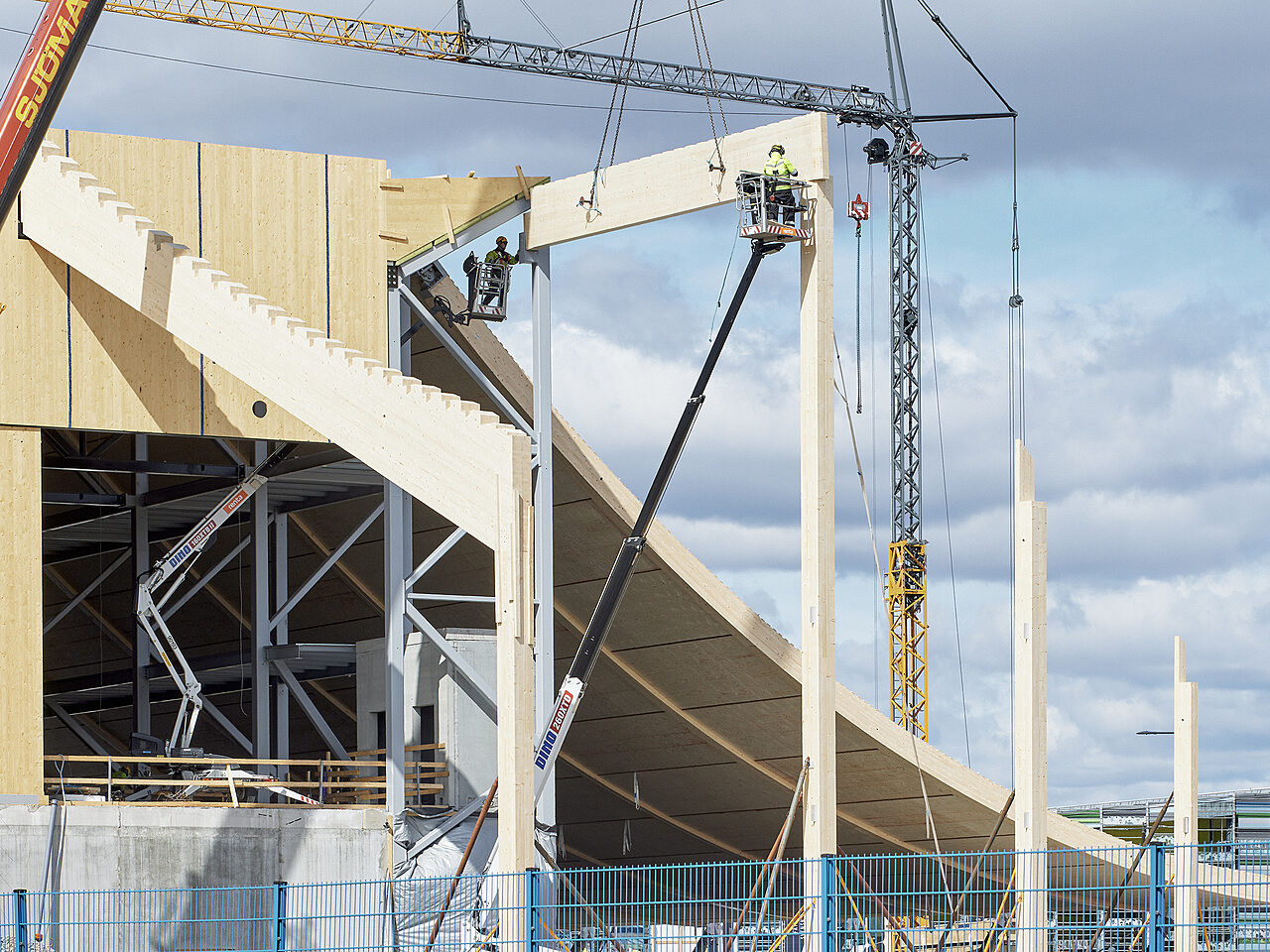 The future of a country grown out of forests is built of wood
Ala Architects / Tuomas Uusheimo
Wood is not only Finland's traditional construction material, but impressive contemporary architecture is also created out of wood. The Finnish know-how in wood construction has great international potential. Promoting wood construction is one of the key measures in achieving Finland's ambitious goals of carbon neutrality. We compiled a selection of contemporary Finnish wood architecture accompanied by articles providing knowledge on Finnish wood construction.

In today's Finland, the built environment consumes half of all raw materials and 40 per cent of energy and causes one-third of carbon dioxide emissions. Finland's architectural policy programme, Towards Sustainable Architecture, presents actions through which architecture, construction and land use can have an impact on finding solutions to climate challenges.
Together with the Ministry of the Environment's Wood Building Programme, we have produced an information package on contemporary Finnish wood architecture. The package includes presentations of 19 projects of different scales, as well as articles on the history, present and future of Finnish wood construction. The material is published in four languages: English, Finnish, Swedish and German.
Architect and journalist Tarja Nurmi has written the project descriptions and one of the articles while the two other articles were written by DsC (Architecture) Laura Berger and architect-writer Netta Böök, who are both experts in the history of wood construction, and our Head of Communications, architect Miina Jutila. The texts were translated into German by architect Mikael Merenmies (Dipl.-Ing., Architekt).
Link to the Future Finland Built of Wood package
You can also browse the projects in our web service Finnish Architecture Navigator.
Projects included in the package

Finnish-Russian School, Helsinki 2021 (AFKS Architects)
Monio High School and Community Centre, Tuusula 2023 (AOR Architects)
Helsinki School of Natural Sciences 2023 (AFKS Architects
Satama Areena, Kotka 2023 (ALA Architects)
Wood City, Helsinki 2019–2024 (Anttinen Oiva Architects)
Katajanokan Laituri, Helsinki 2024 (Anttinen Oiva Architects)
Serlachius Museum Gösta & Art Sauna, Mänttä 2015, 2022 (Mendoza Partida & BAX)
Sauna-Restaurant Kiulu & Ähtäri Swimming Pool, Ähtäri 2022, 2024 (Studio Puisto)
Little Finlandia, Helsinki 2022 (Jaakko Torvinen, Havu Järvelä, Elli Wendelin)
Rauhalinna, Savonlinna 2023 (OOPEAA)
Lammassaari accessible path, Helsinki 2017, 2022 (Studio Puisto & Nomaji)
Filmmaker's Hut, Iisalmi 2020 (Pirinen & Salo)
Space of Mind, 2020 (Studio Puisto)
House Meteorite, Kontiolahti 2020 (Ateljé Sotamaa)
Semi-detached housing in Viikinmäki, Helsinki 2022 (Kanttia 2 Architects)
Puu-Myllypuro, Helsinki (APRT Architects & City of Helsinki)
Linnanfältti, Turku (City of Turku & Schauman Architects, Sigge Architects, Casagrande Architects, Tommy Gustafsson Architects)